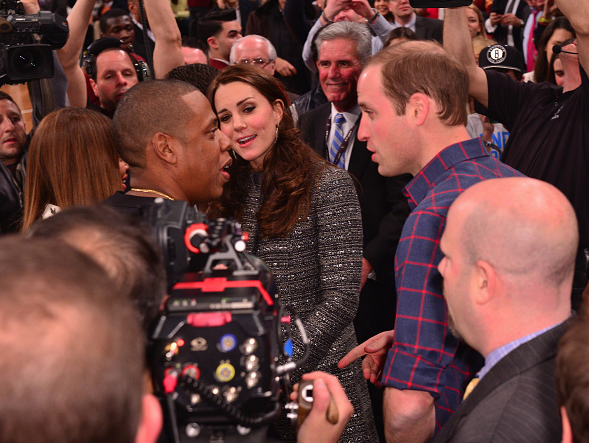 The whirlwind tour of New York by the Duke and Duchess of Cambridge got the superstar treatment last night when the royal couple rubbed shoulders with Beyonce and Jay Z, at an NBA basketball game.
Fresh from his brief visit to the White House, Prince William rejoined his wife Kate Middleton at the Barclays Center, where they watched the Cleaveland Calaliers take on the Brooklyn Nets.
During the halftime break, they ran into the Drunk In Love hit maker and her rapper husband, who can regularly be seen courtside at the games.
In the presence of cheering crowds the foursome smiled as they greeted each other and enjoyed a brief conversation before music's power couple returned to their seats directly opposite them.
For the special outing Kate opted for a grey coat by US designer Tory Burch, skinny jeans and black heels and stayed hydrated with a bottle of water.
The royal couple benefited from a running commentary from basketball legend, Dikembe Mutombo, who sat next to them.
Their night ended on a high with a pre-planned backstage meet-and -greet with basketball star Lebron James, who had brought them a gift-wrapped box of cup cakes from his hometown, Akron, Ohio.
Earlier in the day, William held talks in the Oval Office with President Obama after being introduced to Vice-President Joe Biden and his wife Jill, and given a tour of the white house.
The third in line to the British throne, who is the president of charity United for Wildlife, also addressed delegates at the World Bank about the devastating effects of the illegal wildlife trade.
The Duchess of Cambridge, who is now five months pregnant, stayed in New York to visit a programme for disadvantaged children in Harlem New York City, accompanied by the mayor's wife Chirlane McCray.
The couple arrived in New York on Sunday evening (7 December) for their first official tour of the east coast. They are expected to attend seven official engagements during their visit.