For one of the biggest receptions Queen Elizabeth holds each year at Buckingham Palace, the Duchess of Cambridge chose to honour her husband's late mother Princess Diana by wearing her favourite diamond and pearl Cambridge Lover's Knot tiara to the Diplomatic Reception.
The princess opted to pair the beautiful tiara with diamond drop earrings and the same blue lace Alexander McQueen dress she wore to the 2013 Diplomatic Reception. The last time Kate wore the same outfit and earrings, she opted to pair them with the Lotus Flower tiara, or Papyrus Tiara, Yahoo News reported. She wore the same tiara to her 2011 wedding to Prince William and again during a state banquet with Chinese President Xi Jinxing and his wife Peng Liyuan in October.
According to The Daily Mail, the tiara was created by Queen Mary in 1914 using pearls and diamonds in the royal family's possession. In her will, Queen Mary left the tiara to Queen Elizabeth, who then gave it to Princess Diana in 1981 as a wedding present. Prince William's late mother first wore the tiara at the state opening of Parliament in November 1981 and then again in 1985 during an official visit to Washington DC with Prince Charles.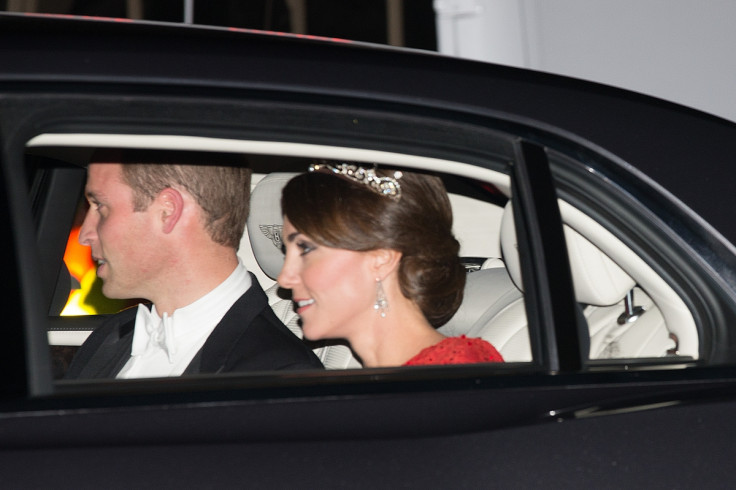 Kate also owns another piece of jewelry previously belonging to Diana. When the Duke and Duchess of Cambridge got engaged, he gave her his late mother's diamond and sapphire engagement ring. The Daily Mail reported that Buckingham Palace did not confirm whether the tiara was given back to the Queen after Diana's death and had been given to Kate or whether it was just a loan.
Details of the annual white-tie event are not available in advance and photographs are not released to the media, The Daily Mail noted. However, the Diplomatic Reception is the main ambassadorial event each year held in London.