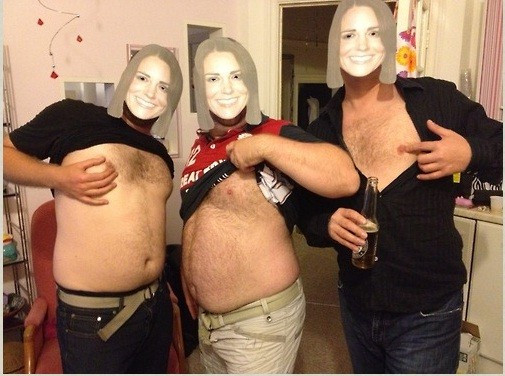 In the midst of the uproar over the publication of the topless pictures of Kate Middleton by the French magazine Closer, a website, Nips Out for Kate, has popped up online to declare solidarity with the duchess.
The website features men baring their nipples for the camera while wearing masks of Kate Middleton and other royals.
The website says its purpose is to "show solidarity with our future queen in her time of need".
The publication of pictures of the Duchess of Cambridge sunbathing in her bikini bottoms have evoked strong condemnation from the palace sources. The British media have refrained from publishing the pictures.
However, the pictures appeared in the Irish tabloid Daily Star, despite Prince William and Kate's decision to sue the French Closer for invasion of privacy.
The editor of the publication, Mike O'Kane, said he was doing a service to readers by reprinting the Closer pictures.
"She's married into the royal family, she's one of the most photographed people in the world, and she decides to partially disrobe on a balcony where it can be seen from a public road and she's stunned now, or the Palace are annoyed that people are interested in this," he told the BBC.
"Of course people are going to be interested in this."
St James's Palace condemned the action of the newspaper and said it was a clear act of greed.
"There can be no motivation for this action other than greed," said a palace spokeswoman.
Meanwhile, Italian magazine Chi is planning to devote 26 pages to Kate's topless pictures in a special issue that will hit news-stands on 17 September.
Palace sources are worried by the spread of the pictures, particularly in the light of claims that more intimate pictures are in the custody of other publications.
Both Closer and Chi belong to the Mondadori media group, owned by former Italian prime minister Silvio Berlusconi.