Kate Middleton faced criticism last week for her plans to install two kitchens in her Kensington Palace apartment.
Dubbed "Two Kitchens Kate", the Duchess has apparently disregarded her detractors and gone one better as she is now reportedly planning to install a third kitchen at the royal couple's Norfolk mansion, Anmer Hall.
The 10-bedroom country property already features a lovingly crafted £38,000 kitchen installed by the former owners six years ago.
Jamie and Jayne Everett, who run a bespoke kitchen design firm, installed the lavish kitchen with gleaming surfaces and state-of-the-art appliances, when they lived at the Georgian mansion, which is in the grounds of The Queen's Sandringham Estate.
The lavish kitchen boasted £17,000 worth of hardwood worktops; , a large Aga costing £11,495; an £8,630 fridge, a white artisan espresso maker worth £630, and a £195 end-grain chopping block. Even the drainage board cost £275.
A royal source said the kitchen would probably be unrecognisable once Kate and William had re-designed it to suit their tastes: "The couple have decided to make changes to the kitchen at Anmer Hall and a lot of what was there is not there any more."
News of the redesign will come as disappointment to the Everetts.
The couple posted a message on their website alongside the photographs which reads: "We left behind one of the most gratifying kitchens we made, the Anmer Hall kitchen' The silver lining to this is that I am certain that the new occupants, Prince William, the Duke of Cambridge, and Kate, the Duchess of Cambridge, are enjoying it as much as we did!"
The Duchess recently installed a second, private family kitchen at her four-storey Kensington Palace apartment keeping the main kitchen for preparations for official engagements.
The 350 sq ft kitchen designed by Princess Margaret's husband Lord Snowdon, was also redesigned at a reported cost to taxpayers of £170,000.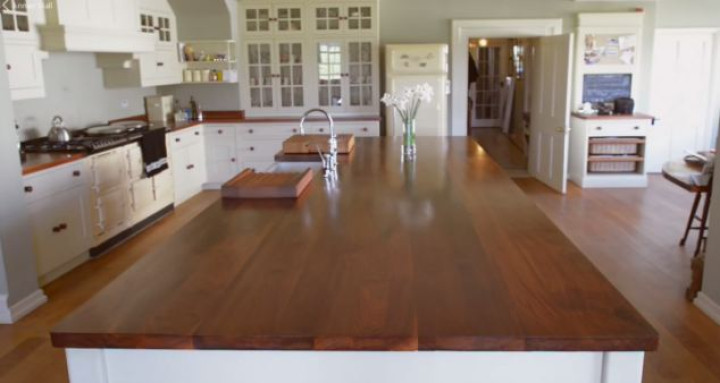 The cost of renovating Apartment 1A, which takes up more than half of one of the wings at Kensington Palace, has now spiralled to more than £4 million.
Meanwhile, the refurbishments at Grade II-listed Anmer Hall are costing £1.5 million, which will be paid mostly by the royal family from private funds.
The figure includes £500,000 to replace roof tiles and a further £500,000 to landscape the front lawn.
A Buckingham Palace spokeswoman last night declined to comment.