Having turned cover girl to mark the centenary of Vogue magazine, it must have been a surreal moment even for Kate Middleton, when she saw her own face staring back at her at the National Portrait Gallery.
The Vogue photos taken by photographer Josh Olins have been featured in an exhibition of portraits titled Vogue 100: A Century of Style. The Duchess, who looked pretty in a pastel pink Alexander McQueen dress, was invited to see the two pictures of herself in country girl mode, on display in the gallery.
Greeting Olins warmly she said: "Josh, how lovely to see you again. How have you been? Still jetting about?" The 34-year-old, who is known for her interest in photography, and regularly takes official photographs of her children, was armed with questions as she recalled the historic shoot at her Anmer Hall home in Norfolk.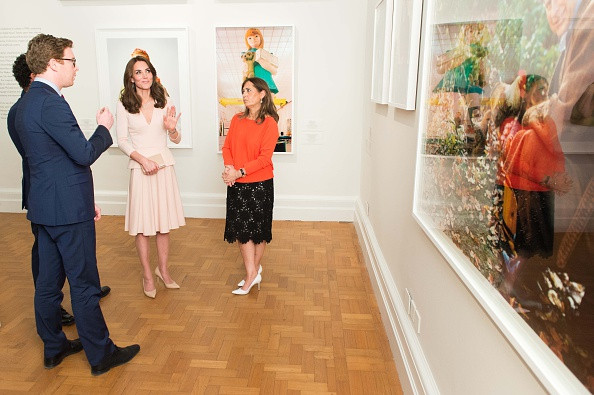 "It doesn't look like January," she said. "'We were very exposed up there as well. It was such a lovely moment, a beautiful end to the day. You did a very good job." The Duchess was keen to learn about what goes into an exhibition asking Olins: "As a photographer do you get involved with the exhibition?"
While Kate was reportedly very happy with the Vogue portraits she was momentarily distracted by an image of her father-in-law, Prince Charles, posing with his chickens. "Ah, I haven't seen this before," she said, as she took a closer look.
While she had already had a busy day of royal duties after officially opening Hampton Court Palace's new children's playground on Wednesday (4 May), the Duchess, who has been patron of the National Gallery since 2012, seemed eager to take in the whole of the exhibition, pausing to peruse several of the other portraits including a set of images by model turned war photographer Lee Miller. "It's amazing she was a model and a muse and turned to this," she observed.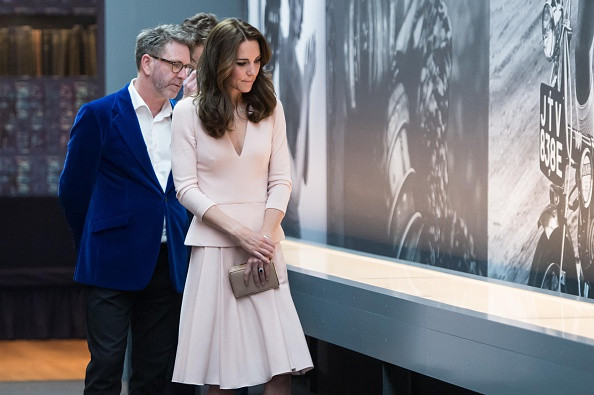 The young royal was presented with a bound collection of prints as a personal reminder of her first fashion shoot by Olins who earlier said it was a "privilege" to be chosen to photograph Kate, describing her as "a natural" in front of the camera. The gallery's director Nicholas Cullinan told Mail Online afterwards that the Duchess was happy with the final results.
"I think she was very pleased by them [her pictures]. It is obviously a process, so of course seeing the images first and then to see them up in the gallery, in the context of the exhibition, is very special. It was a very natural way to round off the exhibition with our patron."
Vogue 100: A Century of Style exhibition at the National Portrait Gallery is now open to the public.The full photo shoot is featured in the June centenary issue of Vogue.