Kate Middleton is quite easily one of the public's favourite royals. But while she has successfully made the transition from normal life to aristocracy in just five years after her marriage to Prince William, The Duchess of Cambridge does not feel confident in her role according to a royal expert.
The editor of Majesty magazine Ingrid Seward claims that she fears inadvertently falling foul of royal protocol as she carries out her royal duties. Seward told The Mirror: "I think she's absolutely terrified of not doing it right. I think she feels a great responsibility on her slender shoulders to do the right thing and be seen to be doing the right thing."
The royal writer added that despite the fact that she is not from an aristocratic background, Kate, 34, has benefitted from the guidance and support she received from Prince William, who prepared her for royal duties throughout their courtship and marriage. The pair met as students at St Andrews University and dated for eight years before marrying in Westminster Abbey on April 29 2011.
"I think she's integrated extremely well. It's not easy - not a lot of guidance - but of course she has the best teacher in William. I think that's made a massive difference - having his hand on her hand," the royal writer said.
Giving credit to the Duchess Ms Seward added that despite the enormous weight of responsibility on her and the intense public scrutiny she faces, the Duchess has barely put a foot wrong. "She hasn't made any mistakes which is extraordinary when you think of how difficult it is for her," Ms Seward explained. "I suppose the only mistake she's made is that she's probably seen not always as particularly interesting."
Prince William and Kate, who celebrate their fifth wedding anniversary on Friday 29 April, have recently faced accusations of being "work shy" as it would found that the young royals had undertaken far fewer royal duties than the 90-year-old Queen, while William works part-time as an air ambulance pilot.
In a recent interview Prince William said he expected to face public criticism from time to time, but he maintained that his royal duties must be balanced against his obligations to his growing family.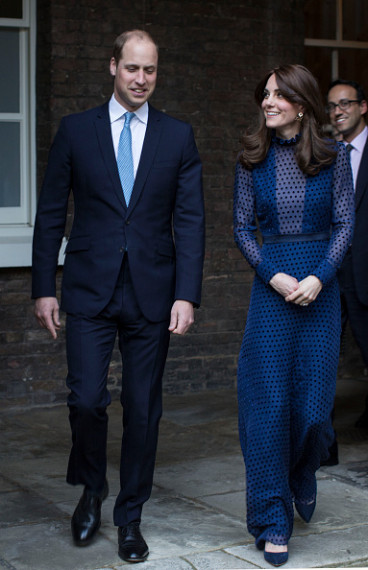 While she regularly faces scrutiny for her style statements and was even admonished for having unpolished toes, Kate also came under fire when she broke the 115-year-old tradition of presenting shamrocks to the Irish Guards on St Patrick's Day, choosing instead to spend time at home with her children Prince George, two, and Princess Charlotte, who turns one on Monday, before her official tour of India and Bhutan.
However, Seward said that despite the popularity of William and Kate, they would inevitably encounter some opposition eventually. "The timing was right for a couple of blips to happen," she explained. "They were so much on top of the pedestal there was only one way and that was down."
The Duchess has taking a leading role in highlighting mental health issues, fronting a series of campaigns to generate awareness of charities and services providing support to young couple including the Heads Together mental health campaign and Young Minds Matter.
And while she has been applauded for her part in the initiatives, it has been noted that the Duchess has only on occasion given speeches herself addressing the issues. Seward added that Kate will become more confident as a public speaker as she gains more experience in her role.
"She's got so long to be there that I don't think there's any need for her to be passing her own opinions yet because she's got years to do it. If she wanted to do, she would, but she obviously doesn't want to," the royal writer added.
According to Mail Online, Kensington Palace said the Cambridges will celebrate their wedding anniversary privately at their home with their children.