When it comes to hair, American pop star Katy Perry has tried on pretty much anything and is well known for her ever-changing hair styles. Now the 27-year-old singer has fashioned for a blazing orange hair on the cover of the September issue of French magazine L'Officiel Paris.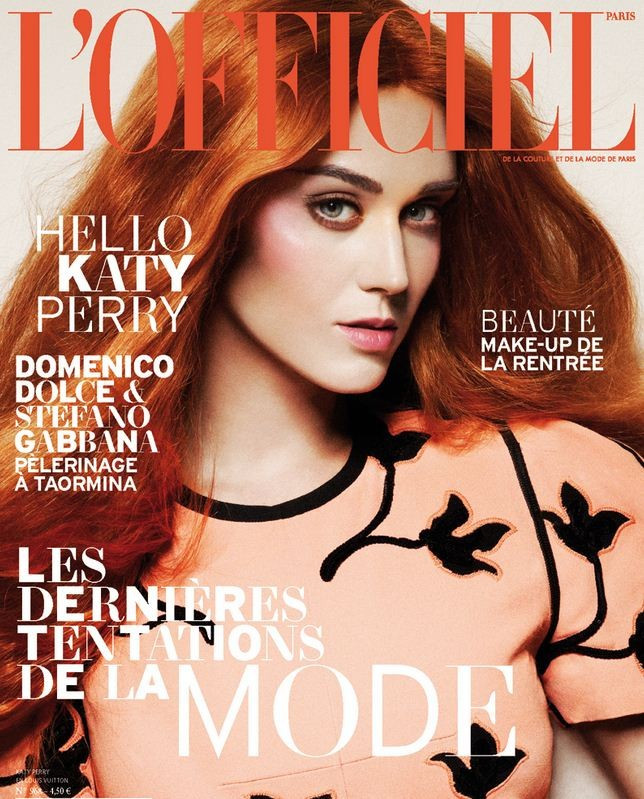 American pop star Katy Perry goes for orange hair on the cover of the September issue of L'Officiel Paris.
The still taken by Cuneyt Akeroglu for the magazine has Perry in a peachy Louis Vuitton pre-Fall 2012 dress, which Glee's Dianna Agron wore during the Louis Vuitton Fall 2012 fashion show during the Paris Fashion Week.
"Katy Perry who forsakes us its fluorescent wigs to reincarnate in gothic goddess incendiary. The mystic and beliefs are also well the main trend this season autumn-winter," the website describes the cover page.
Earlier this month, singer Lady Gaga was seen sporting orange hair colour at Bucharest's Athenee Palace Hilton Hotel, E online reports.
The Part of Me singer who was recently spotted with bob hairstyle in jet black shade has previously opted for purple, blue, pink and blonde tresses.
On her personal front, Perry has reportedly ended her brief romantic alliance with fellow musician John Mayer with close sources admitting that she is "really upset" and "hurt" about the split.
"She is making it seem like it wasn't serious with John. She doesn't want to get her heart broken again, but she feels a real connection and wants to see where things go," the source told US Weekly.
The couple's romance was first reported in June, when the two were spotted enjoying affectionate moments together at Soho House in West Hollywood. In August, at a Beverly Hills pool party, an observer confessed the two "were all over each other, making out".
Since the split, John and Katy are said to have avoided each other.
"John did a real number on Katy," sources told Radar Online, "She held off from his advances for the longest time, but he laid on the charm thick and promised her he was a changed man. She eventually gave in, fell head over heels for him and then - yep - once he had made his conquest, he dumped her."
Perry, who only recently divorced comedian Russell Brand after 14 months together was also reportedly involved, briefly, with Robert Ackroyd, of Florence + The Machine.