Keir Starmer Defends Decision For No Ceasefire In Gaza Because It Is not 'The Correct Decision Now'
The Labour Leader refuses to back calls for a ceasefire to prevent a Hamas uprising and calls for a "humanitarian pause" instead.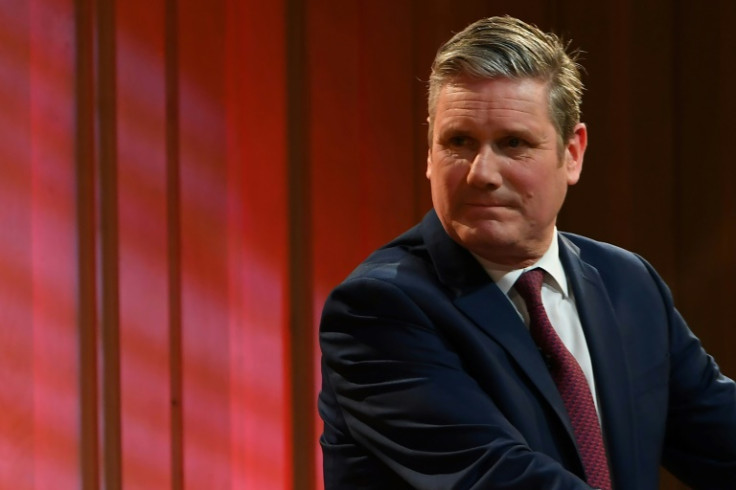 Last week, Labour Leader Keir Starmer controversially refused to back a ceasefire in Gaza after several Shadow Labour Ministers called for a ceasefire between Israel and Hamas.
In a speech, the Labour Leader defended his decision with: "While I understand calls for a ceasefire at this stage, I do not believe that it is the correct decision now."
A ceasefire "would leave Hamas with the infrastructure and the capability to carry out the sort of attack we saw on October 7th," he added.
Although Starmer denied allegations towards the ceasefire debate creating a split within the Labour Party, Amna Abdulatif, who resigned from her post as Labour Councillor over the issue, urged Labour MPs to keep up the pressure for a ceasefire.
After his speech, as he left Chatham House in London, the Labour Leader was surrounded by a group of pro-Palestinian protestors who chanted "war criminal" and "shame".
Police were forced to intervene at the scene, which resulted in Starmer getting ushered into the back of his car as protestors chased the vehicle and drummed on the window.
Addressing the group of reporters, Starmer explained that he would continue to urge Israel to obey international laws and backed calls for a "humanitarian pause" to all Israeli operations to allow aid to enter Gaza via the Rafah crossing from Egypt.
Starmer called the conflict a "tragedy", and acknowledged that almost 10,000 innocent civilians have been killed as a result of the fighting – more than 8,000 are Palestinians in Gaza.
Starmer went on to explain: "Facts on the ground are changing by the minute, but the consequences will last decades, and the trauma might never fade. A crisis where the search for solutions is clouded not just by the fog of war, but by an ever-darkening cloud of misinformation."
Starmer recognised that democratic accountability is extremely important at this time and referenced the increased tensions between pro-Palestine and pro-Israeli protests across the UK.
Starmer called Hamas' unprecedented attack on Israel, "the biggest slaughter of Jews, and that is why they were killed, do not doubt that, since the holocaust".
The Labour Leader also spoke of the more than 200 victims, including babies as young as nine months and British citizens, who were kidnapped by Hamas and "taken back into Gaza".
According to Starmer, the Party's decisions have been driven by the fact that "This is terrorism on a scale and brutality that few countries have ever experienced, certainly not this one."
Speaking of the huge humanitarian catastrophe in Gaza, Starmer added: "Thousands of innocent Palestinians, dead, displaced, desperate for food and water, reduced to drinking contaminated filth, hiding out in hospitals for shelter whilst in those same buildings babies lie in incubators that could turn off at any moment."
A two-state solution is the "only way to resolve this conflict once and for all", which is why the Labour Party believe that "Israel must submit to the international law", Starmer said.
"The right to self-defence is fundamental, but it is not a blank cheque," he added, demanding that "the supply of basic utilities like water, medicines, electricity and yes, fuel to civilians in Gaza, cannot be blocked by Israel".
This news comes after the Israeli Defence Forces (IDF) published footage that showed Hamas having around 500,000 litres of fuel and the UN accused the proscribed terrorist group of stealing the aid being donated to Palestinian civilians.
Starmer called the building of new Israeli settlements in the West Bank, "unacceptable, unlawful and has to stop".
Despite the Labour Leader refusing to call for a complete ceasefire, Starmer concluded that the two immediate things that Britain has to address include the "humanitarian pauses to allow the aid to get in" and to "allow and argue for the release of hostages" from Gaza.
© Copyright IBTimes 2023. All rights reserved.