Kellyanne Conway denies retweeting white nationalist, claims she does not know who used her account
'I don't know who had access to my account,' Conway said.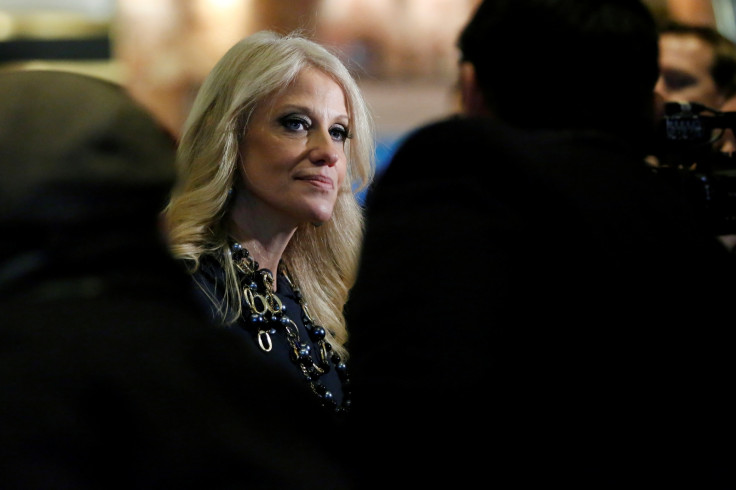 White House senior adviser Kellyanne Conway's Twitter account retweeted a self-proclaimed white nationalist on Tuesday (14 February) that complimented her for her "strength and resiliency in face of vile hatred, bigotry and sexism of the unhinged Left... Love you!" Her account also responded to the user Lib Hypocrisy's tweet as well, saying "Love you back" and wished a happy Valentine's Day to the "Hapless Haters".
Conway later said she was not sure who was operating her Twitter account when the messages were sent, saying she "denounced" the person responsible for it.
"I don't know who had access to my account," Conway told BuzzFeed News. "Let me see who tweeted that. That's terrible." She added that she "obviously" had never heard of Lib Hypocrisy before.
Lib Hypocrisy's Twitter bio reads, "Hate Anti-American Liberals, Marxists and Commies" and includes the hashtags "WhiteIdentity" and "Nationalist."
The user also claims to love Geert Wilders — a far-right Dutch politician who wants to "de-Islamise" the Netherlands and ban the Quran — and Steve Bannon, Trump's chief strategist and former Breitbart editor Steve Bannon.
Operating under the Twitter handle @TrumpTrainNoBrk, the account also features a frog illustration, seemingly to denote Pepe the frog, a cartoon that has been identified by the Anti-Defamation League as a hate symbol used by the alt-right movement.
"I denounce whoever it is," she said. "It will be immediately deleted. Everybody makes mistakes." The tweet has since been deleted from her account.
The incident comes as Conway continues to face criticism over statements made during media appearances in recent weeks.
In January, she coined the phrase "alternative facts" whilst defending false statements made by White House press secretary Sean Spicer over audience numbers at Trump's inauguration.
On Tuesday, the Office of Government Ethics said Conway's recent public endorsement of Ivanka Trump's product line was "a clear violation of the prohibition against misuse of position" and recommended that the White House take disciplinary action against the senior adviser.
Earlier this month, she spoke about the "Bowling Green massacre" — a terrorist attack that never happened — while defending President Trump's controversial travel ban, prompting widespread criticism, jokes and memes. Conway eventually clarified that she meant to say "Bowling Green terrorists."
She later hit back at critics in an interview aired on Fox News' "Media Buzz" and called some of them "haters."
"I should have said 'plot' or I should have just called them 'terrorists,'" Conway said. "I clarified immediately. I should have said terrorists and not 'massacre.'
"I'm sure it will live on for a week."
© Copyright IBTimes 2023. All rights reserved.