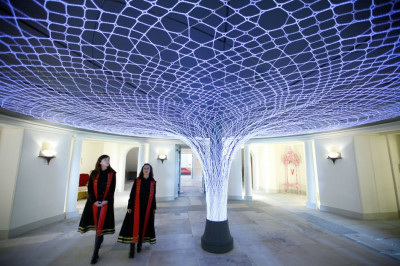 The residence of the British royal family and the future official London residence of Prince William and Kate Middleton - Kensington Palace - has reopened after a £12m renovation.
The makeover for the building, part of which is also a museum, took two years and is meant to transform visitor experience and accessibility of this iconic royal residence. The palace was officially reopened by the Queen on 15 March and is now open to the public.
The Duke and Duchess of Cambridge are expected, now that the renovation work has been completed, to move from their temporary residence in Kensington Palace to the four-story, 20-room apartment 1-A - formerly the residence of Princess Margaret - sometime in 2013.
Meanwhile, as part of the royal family's heritage, there is a small but rather special selection of dresses worn by Diana, the late Princess of Wales, on exhibition. The dresses, which will be displayed alongside fashion illustrations and photographs, will reflect some memorable moments from Diana's public life - from the famous black strapless evening gown by Emanuel (which has never been on public display) to a stunning sleek black cocktail dress by Gianni Versace, which she wore several years later.
In addition, an evening dress which created a splash in the newspapers - a shocking pink Catherine Walker gown - and a popular demure cocktail dress by Bellville Sassoon-Lorcan Mullany, as well as photographs and fashion illustrations, will reportedly trace Diana's evolution from a young woman to a Princess.
The Daily Mail also reported on the work interior stylist Finola Inger, who employed fashion illustrator Julie Verhoeven to turn some of the most instantly recognisable photographs of Diana into eye-catching colour sketches. The paper has been used to line a hallway leading up to the room where the exhibition of Diana's dresses is being held.
Start the slideshow to get a glimpse of the newly renovated Kensington Palace: