Kenyan human-rights defenders who have been exposing violations committed in Burundi are now fearing for their lives after allegedly receiving text messages containing death threats from people they believe to be Burundian supporters of the ruling party, IBTimes UK can reveal.
Up to 900 people have died and around 233,000 refugees have fled Burundi in the wake of the current political crisis, which pits supporters of President Pierre Nkurunziza against those who say his re-election in July 2015 for a third term violated the constitution's two-term limit as well as the Arusha agreement that ended Burundi's 12-year civil war in 2005.
In January, it appeared that the Kenyan National Intelligence Services had launched an investigation into the alleged presence of a so-called 'death squad' in the region after a member of the Burundian opposition Mouvement pour la Solidarité et le Développement party, Jean de Dieu, was found dead in Kenya's capital Nairobi over the New Year.

When asked to comment, Burundi's government fiercely denied the allegations, describing the claims as rumours. "This rhetoric [about the ruling party youth wing] 'Imbonerakure' you have is crumbling," presidential spokesperson Willy Nyamitwe told IBTimes UK from Burundi's capital, Bujumbura. "Those who were armed are not Imbonerakure, but [they are] these people that you are protecting or that are working with you. They are tall tales, and you are the only one to believe them."
Text message 'death threats'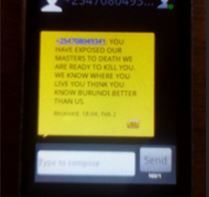 In a new twist, however, three Kenyan human-rights defenders, who have been been documenting and denouncing human-rights violations in Burundi, now claim to have received death threats via text messages sent to their mobile phones.
The first, Cidi Otieno David, is the convener of the Kenyan pressure group Coalition for Constitution Implementation (CCI Kenya), a national movement that brings together several NGOs in the country. He has also been coordinating the Kenya activities of the Burundi Solidarity Group, a group that has been denouncing rights violations in Burundi. Otieno's colleagues, Wilfred Olal and Ferdinand Manirerekana, have also participated in the group's activities, advocating against ongoing extrajudicial killings in Burundi and engaging in social-media campaigns.
Otieno received the text message at around 5pm on 2 February, while his colleagues received similar messages around the same time. His text, also pictured above, read: "You have exposed our masters to death we are ready to kill you. We know where you live you think you know Burundi better than us"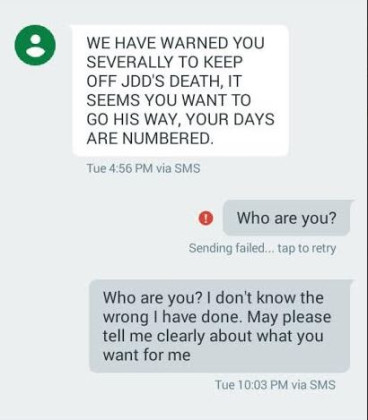 Due to the content, it is believed the threats are directly linked to the rights defenders' work on the situation in Burundi.
"I immediately called colleagues we work with and [this] is when I realised that two of other colleagues in the Burundi Solidarity Group, Wilfred Olal and Ferdinand Manirerekana, also received threatening texts from the same number," Otieno told IBTimes UK in an exclusive interview.
While Olal's message was similar to Otieno's, Manirerekana's text was different: "We have warned you severally to keep off JDD [possibly Jean de Dieu]'s death. It seems you want to go his way, your days are numbered." Together with Olal, Otieno said he went to the Central Police Station in Nairobi, where they reported the case. Manirerekana is due to report the same at Kabete Police Station on 5 February . The police opened a criminal investigation.
'I am feeling insecure'
"Currently, I am feeling insecure as there are claims that a hit squad is in the country, and also coupled by the fact that the death of John De Dieu is yet to be unravelled and also that four days ago another Burundi exile was poisoned in Kampala, Uganda. I have never felt insecure like this before," Otieno said from Nairobi. "I believe the threats are real as I have been in the forefront in coordinating Burundi Solidarity Group activities in Kenya because we have been working as a team and the work shall continue even in my absence".
He added: "My message to those behind the threats is that these threats are a confirmation that whatever we have been standing against is true, and instead of targeting harmless and unarmed activists fighting human-rights and social justice in Burundi, they should push the Burundi leaders to stop the violations meted [out] against the Burundi people,."
The rights defender called on the international community to provide protection to all those working to denounce and document the human-rights violations in Burundi, as well as "direct action to stop the systematic killings of critics both in Burundi and abroad".
Burundi Solidarity Group
The Burundi Solidarity Group has been calling for the East Africa Legislative Assembly to take action on the situation in Burundi, based on a number of United Nations reports of human-rights violations being committed in the country. Among the violations denounced by the group are forced disappearances of persons by the state, violent attacks on peaceful protesters and specific attacks on women and ill treatment of political prisoners, along with reprisals on journalists, media houses and human-rights defenders.
In late January, Florent Geel, head of International Federation for Human Rights Africa, exclusively spoke to IBTimes UK about his concerns following the disappearance of the treasurer of Burundi's oldest human-rights defence organisation Ligue Iteka, Marie-Claudette Kwizera.