Kenya: Tragic last moments of students massacred in university siege revealed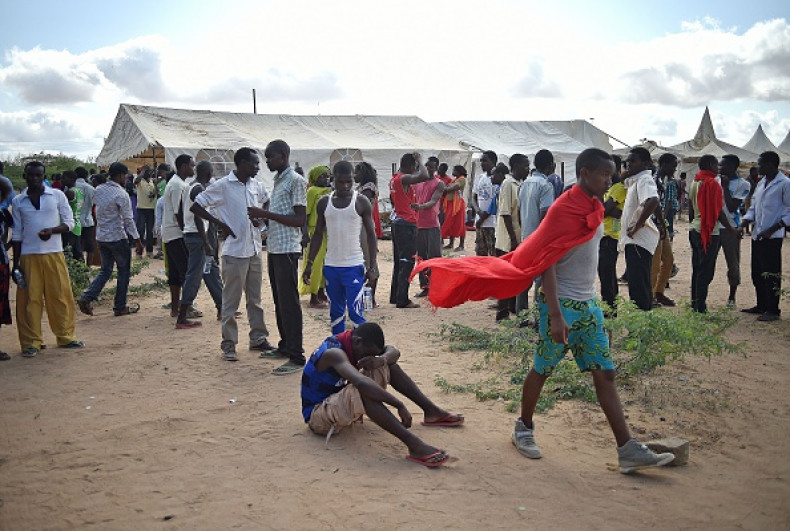 The tragic last moments of students murdered in the Kenyan massacre have been revealed.
4 masked gunmen stormed the Garissa University College at around 5am local time (0700 BST) on 2 April. A 13-hour stand off between al-Shabaab and Kenyan military ensued, leaving 150 dead and 79 injured on the campus, which lies 145km (90 miles) from the Somali border.
It is believed to be the worst terrorist attack on Kenyan soil since the bombing of the US Embassy in Nairobi in 1998, which killed more than 200 people.
The attackers, who were strapped with bombs and armed with AK-47s, singled out non-Muslim students and gunned them down without mercy, survivors said.
In the aftermath of the attack, a heartbreaking last text to a loved one, and shocking photos of the bloodshed, have surfaced on social media, depicting the terror of the victims and the full extent of the atrocity.
As the dormitory was besieged by the Al-Shabaab militants, Kenyan student Jane Akinyi sent a message from inside Garissa University College, to her boyfriend with the poignant message "in case we don't see each other again, just know I love you".
A screenshot of the heartbreaking message, written in Swahili, has been circulated on social media, as students who survived the massacre tell their harrowing stories.
The full message reads: "Everyone at Nancy's cube has been shot and we're next. Where are the KDF (Kenyan defence force)? If they are there, please tell them to come, they are killing us, please tell them to come help us. Babe, in case we don't see each other again, just know I love you and I will always love you. Bye babe, pray for us. May God help us."
The students revealed that the gunmen ordered people to recite verses from the Koran at gunpoint, freeing those who were able to do so. Those who could not were shot instantly.
Reuben Mwavita said he saw three female students being murdered.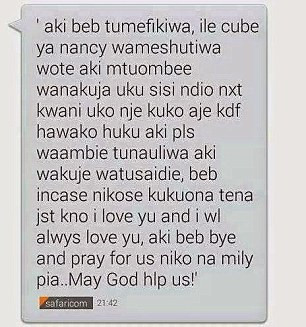 A final text from one of the students who was killed in the massacre.
Recounting the horrifying incident Mwavita said the gunmen forced them onto their knees and started to question them. "The mistake they made was to say 'Jesus, please save us', because that is when they were immediately shot."
Susan Kitoko, who jumped from a window to escape the gunmen, said: "I was confused, I was terrified and was shaking, but I was not screaming and that is what saved me. The attackers were just in the next room, I heard them ask people whether they were Christian or Muslim, then I heard gunshots and screams."
Kenneth Luzakula said more than 20 of his friends were murdered in the attack.
He told Reuters: "They killed all my friends. I was praying with them when we heard gun shots and two guys who wore hoods and carried long guns came in. I escaped because I was standing next to the rear door, so I dashed out with one other friend.
"I could hear my friends still praying loudly and calling the name of Jesus Christ. Others were screaming. I heard gunshots repeatedly from the toilet nearby where we had hidden. They killed my friends but I know they are all in heaven, because they died worshipping God."
Student Elosy Karimi crawled into a space above her bunk into a gap in the roof where she hid from the gunmen. She said she heard the killers call for her friends to leave their rooms or else they would be killed.
According to Ms Karimi they yelled: "If you want to survive, come out. If you want to die, stay inside.' I knew those guys were lying," she said. They callously told the women they were safe, before gunning them down. Many of the students were killed in their classrooms, and with every killing the attackers shouted "God is great."
Pictures on social media of one of the dorms showed bloodstained floors, bodies of male students and splintered wooden chairs.
The terrorists even called the family of a girl they had just murdered using her mobile phone to ask her father to ring the Kenyan president.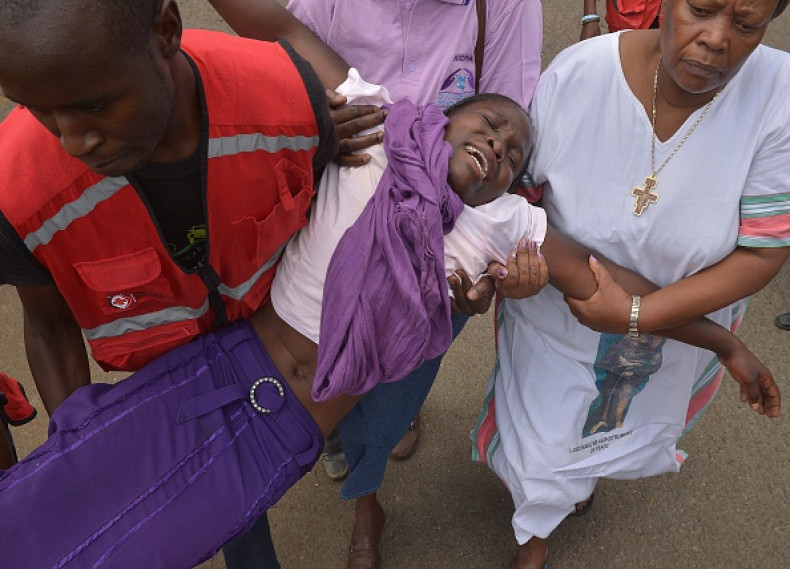 Fred Musinai said his daughter phoned him early in the morning to tell him about the attack, and at 1pm, he received another call from her handset.
Mr Musinai told The Star newspaper in Kenya: "The caller said the Kenya Defence Forces has killed their children, women and the elderly in Somalia and the attack was a revenge mission. The caller was using my daughter's phone and at 1pm they called again and insisted I should pass the information to President Kenyatta."
Mr Musinai asked the terrorist to pass the handset to his daughter, but he replied: 'She is already gone, you just pass the information to your President.'
"It was so traumatising for us as a family and we pray that God will liberate us from these terrorists," he said.
After a battle with Kenyan military, three of the terrorists were killed. A fourth, who attempted to flee from the Garissa University College campus, was caught by police outside the compound and taken into custody.
Pictures of the dead terrorists have been posted on social media along with the shocking image of 100 bodies of their victims, lying face down in a courtyard.
Following yesterday's massacre, Kenyan troops have been deployed on the streets of Garissa, patrolling the university and preventing any further attacks on soft targets such as the hospital. A curfew has been imposed on the town and surrounding areas from dusk until dawn in an effort to prevent the terrorists from moving freely.
Police say the massacre may have been masterminded by Mohammed Mohamud and are offering a large reward for information leading to his capture.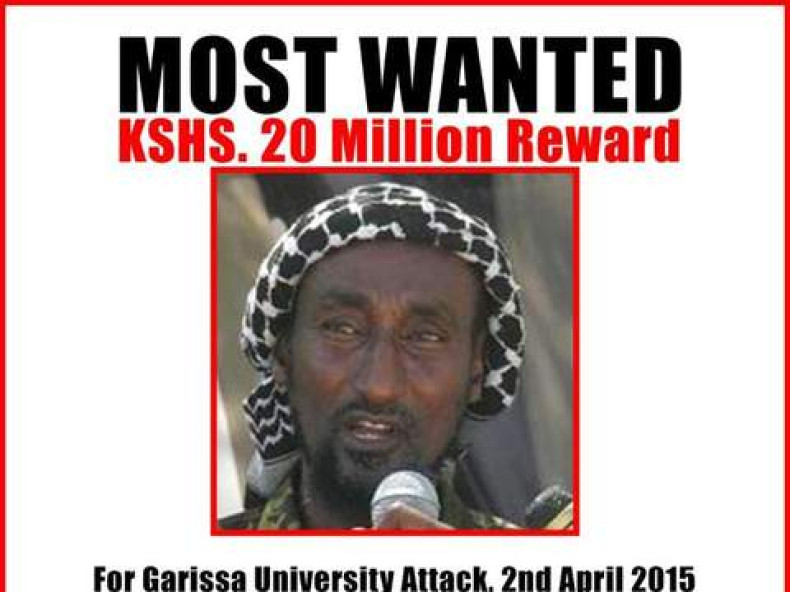 The militants, who have links to al Qaeda, have vowed to take retribution against Kenya for sending its troops to Somalia in 2011 to tackle militants staging cross-border raids.
Pope Francis has since condemned the assault as 'senseless brutality' and expressed grave concerns that Christians are being targeted for their faith. In a statement, he said the international community would be justified in using military force as a last resort to stop the 'unjust aggression'.