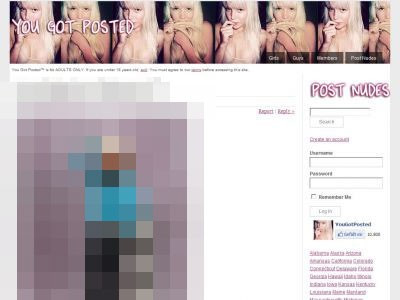 The creator of an alleged 'revenge porn' site has been charged by the authorities in California in a landmark case.
Kevin Bollaert, 27, of San Diego, is accused of 31 counts of conspiracy, identity theft, and extortion, for uploading more than 10,000 sexually explicit photos of men and women without their permission to his website ugotposted.com.
Pictures were added to the website, which included the victim's name, location and age, and a link to their Facebook profile. They had to then pay up to $350 on a second site, called changemyreputation.com, to have the pictures taken down.
If found guilty, Bollaert faces imprisonment.
When investigators asked Bollaert whether he realised the damage his alleged website was causing, before his arrest, he expressed regret and said: "At the beginning, it was fun. But now it's just, like, ruining my life."
A loophole in the US Communications Decency Act makes successful prosecutions of 'revenge porn' sites very difficult. Section 230 of the act states that websites cannot be held accountable for content submitted by third parties.
Hunter Moore, 27, dubbed 'the most hated man on the internet', avoided prosecution for running IsAnyoneUp.com, which he created in 2010.
The site was visited by as many as 350,000 users a day and earned him tens of thousands of dollars before he sold it to anti-bullying charity Bullyville. He described himself as a 'professional life ruiner' and taunted his victims, telling one: "We've all masturbated to you. It can't get any worse."
One victim who had nude photos of herself posted online by a jilted lover wrote a desperate e-mail to her blackmailer saying people were stalking her: "I am scared for my life." She wrote. "People are calling my workplace. These pictures need to come down. Please!"
Analysts said as social media and the careless sharing of personal images had proliferated so had 'revenge porn' sites.
Soon after Moore sold IsAnyoneUp to Bullyville CEO James McGibney in April 2012, Moore began a vicious tirade against him on Twitter, accusing him of possessing child pornography and engaging in child abuse.
In March, however, Moore was ordered to pay McGibney $250,000 for defamation.