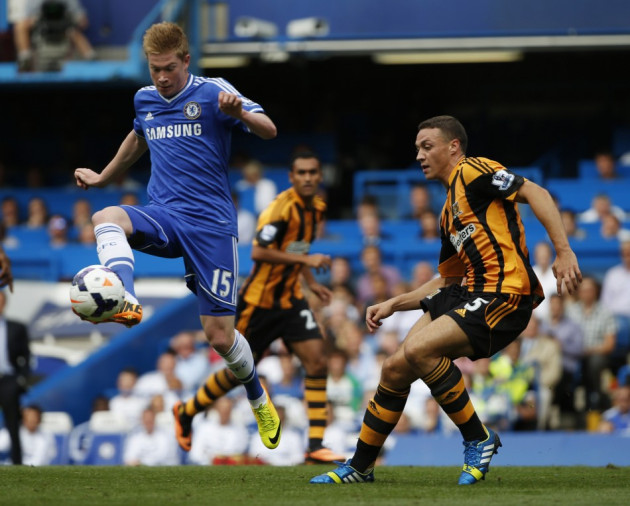 Eden Hazard has urged Chelsea star Kevin De Bruyne to make a move away from Stamford Bridge in search of regular playtime to seal a place in the Belgium squad for the 2014 World Cup in Brazil.
The 22-year-old was signed in 2012 from Belgium side Genk and spent the last season on loan Werder Bremen. De Bruyne returned to the west London club in the summer and was linked with a move to the Bundesliga outfit in the summer.
However, no deal took shape as the Belgium international continued with Jose Mourinho's side. De Bruyne has started in two Premier League matches for the Europa League winners this season and his compatriot, Hazard has advised him to leave his current employers.
"If he does not play, it is better for him to leave. Playing a World Cup after having not played for a year... is very difficult. If we want to get the best from Kevin in the future it is better that he leaves. But he's a big boy. He must make his own choices," Goal.com quoted Hazard as saying.
The winger has expressed his sadness of not featuring regularly for the Blues. However, De Bruyne has urged to prove his worth for the west London club after admitting the Blues will decide if he is to be sent out on loan in January.
The former Real Madrid manager was in the stands during Belgium's 2-0 defeat at the hands of Colombia during the international break.
"Maybe. But Chelsea is my employer and they decide my future. 'I don't have to talk about what could happen in January now, as it's only November. A lot can still happen. I feel quite good. The fact that I'm playing at Chelsea is proof I always performed well," De Bruyne said.
"The manager told me in July that I had to stay, so I'm not a difficult person. I've no regrets. I know Mourinho was there, but I didn't bother. Sometimes it may look as if I want to force things, but in my head I am doing the same things as last year."
"If you don't play a lot at your team, you can't expect to be on top in your first game. It's not easy for me. I don't miss confidence, I only lack match fitness," the winger concluded.