Kevin Durant to Golden State: Oklahoma City Thunder star confirms he will join the Warriors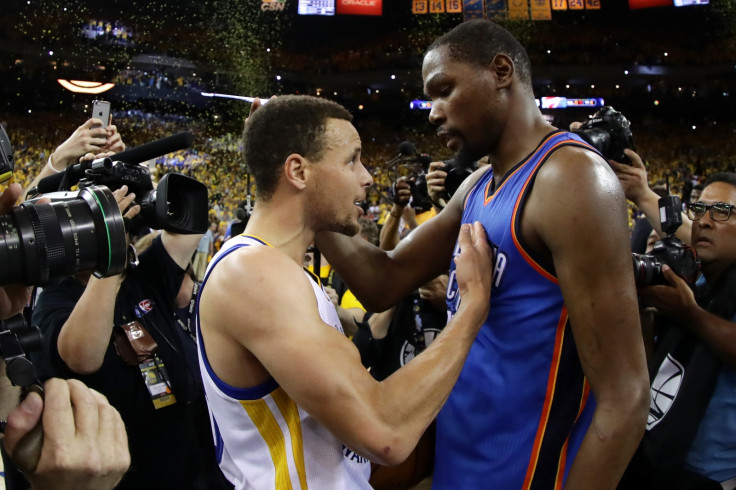 KEY POINTS
Seven-time All-Star was an unrestricted free agent after nine years with Seattle/OKC.
He also met with the Thunder, Celtics, Heat, Spurs and Clippers before announcing his decision.
Durant further bolsters a record-breaking team who won the title in 2015 before being beaten by Cleveland this year.
Basketball superstar Kevin Durant has sent shockwaves through the sport by confirming that he will join reigning Western Conference champions the Golden State Warriors this summer. The former NBA MVP and seven-time All-Star, who was selected by the Seattle Supersonics with the second pick of the 2007 draft and remained with the franchise after their relocation to Oklahoma City eight years ago, became an unrestricted free agent at the end of last season.
As this year's main free agent prize, small forward Durant held meetings with the Warriors, Boston Celtics, Miami Heat, San Antonio Spurs and Los Angeles Clippers in addition to the Thunder. He kept everyone waiting before finally announcing his decision on American Independence Day (4 July) in a Players' Tribune post entitled "My Next Chapter".
"This has been by far the most challenging few weeks in my professional life," he said. "I understood cognitively that I was facing a crossroads in my evolution as a player and as a man, and that it came with exceptionally difficult choices. What I didn't truly understand, however, was the range of emotions I would feel during this process.
"The primary mandate I had for myself in making this decision was to have it based on the potential for my growth as a player — as that has always steered me in the right direction.
"But I am also at a point in my life where it is of equal importance to find an opportunity that encourages my evolution as a man: moving out of my comfort zone to a new city and community which offers the greatest potential for my contribution and personal growth. With this in mind, I have decided that I am going to join the Golden State Warriors."
Washington native Durant, who did not meet with his hometown Wizards, went on to pay tribute to Oklahoma City, adding that there were "no words to express what the organisation and the community mean to me, and what they will represent in my life and in my heart forever". He also expressed regret that "it really pains me to know that I will disappoint so many people with this choice, but I believe I am doing what I feel is the right thing at this point in my life and my playing career."
In joining the Warriors, the 2012 Olympic gold medallist helps to vastly improve a team that already established themselves as the best in NBA history last term. Steve Kerr's side continued the momentum from their first championship triumph in 40 years to eclipse the 1995-96 Chicago Bulls and finish with the best ever regular-season record of 73-9.
With phenomenal point guard Steph Curry unanimously scooping his second straight MVP award, the Warriors broke a multitude of other team and individual records before beginning their playoff run by easily ousting the Houston Rockets. They then saw off the Portland Trailblazers before rallying from a 3-1 deficit to beat Durant and the Thunder in a seven-game Western Conference finals series.
A second successive title appeared likely before they became the victims of a sensational comeback that saw Cavaliers icon LeBron James deliver the first major sports championship to Cleveland since 1964.
© Copyright IBTimes 2023. All rights reserved.