Kevin Hart is in the middle of a feud between his current and former spouses. In a scathing Instagram post, the Ride Along star's wife, Eniko Hart, claims she was falsely tarnished with the 'homewrecker' label by his ex-missus, Torrei Hart, stating that Kevin was separated when they began dating circa 2009.
The drama began when Eniko, 33, posted a loving tribute to her husband on Instagram to mark their one-year wedding anniversary on 13 August. In the message, Eniko noted that she has been in a relationship with her "soulmate" for eight years, prompting one eagle-eyed follower to remark that Hart and Torrei only officially divorced six years ago in 2011.
For years, Kevin was accused of cheating on Torrei with Eniko towards the end of their marriage – but his current love vehemently denies the rumours.
Responding to the Instagram follower, who suggested the married couple refrain from "flaunting" the year their romance began, Eniko wrote: "There's nothing to flaunt. Their marriage was broken way before I came in the picture. They were separated living in separate homes. I was never a secret. She knew that as well. Don't believe the hype."
Appearing to blame Torrei for starting the affair rumours, Eniko continued: "It's no problem at all I'm basically immune to it now. Those rumours were spread from her years ago. Because she wanted to play the 'victim' and not own up to her wrong doing as well.
"Singled me out as the mistress because we stuck knowing damn well there [were] other women during their marriage. But I never wrecked any home... that was never the case and people ran with it. Only WE know how it really went down."
Eniko, formerly Parrish, is currently pregnant with her first child with Kevin. The comic already shares two children – daughter Heaven, 12, and son Hendrix, nine – with Torrei. It was thought that all three were on good terms with Torrei, who was often seen joining the couple on family days out with the children.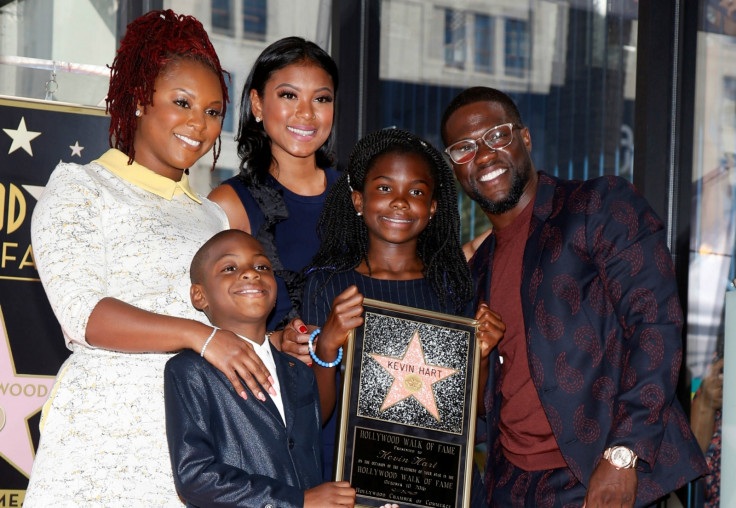 Kevin, 38, has made no attempts to hide the strain in his marriage to Torrei and admitted in February that their arguments almost turned violent. Speaking to the Breakfast Club, Kevin revealed: "Me and my ex wife. When it got violent where we're fighting – Am I really fighting? Am I holding my hands up as if she's a man right now? Oh my God. This is...I'm out.
"I've really got my hands up to not defend, but counter. Like, I'm waiting for you to throw a punch. 'Cause I'm about to counter the s**t out of you. Like, I'm really that upset to where I have to get in a stance. When you get in a stance, that's when I checked myself."
Despite recent cheating allegations, Kevin's relationship with Eniko seems to be going from strength to strength, proved by a sweet message he posted in honour of her birthday on 18 August. The stand-up comedian said: "Happy B Day to my fine ass wife.....Sheesh. how did I get so lucky ....I love ur big head ass to death. My Rib for life damn it!!!!! #Harts."