Yum Brands, the parent company behind KFC, Pizza Hut and Taco Bell, saw its share price plunge more than 18% in extended trading after it posted weaker-than-expected earnings for the third quarter and cutting fourth quarter forecasts. The fast food giant reported a 4% annual increase in revenue for the three months to 5 September of $3.43bn (£2.25bn, €3.04bn), falling short of a Thomson Reuters forecast for sales of $3.68bn.
Net profit was up by 2% to $421m with earnings per share (EPS) at $0.95. Yum lowered its profit forecast for the fourth quarter as a result of slowing sales in its key Chinese market and the stronger dollar.
Its share prices dived 18.4% to $68.11 in after-hours trading in New York, wiping out more than $6bn from its market value.
'Unexpected headwinds'
"Our growth fundamentals in China, including new-unit development, remain intact. However, we're experiencing unexpected headwinds, making the second half of the year more challenging than we anticipated," Yum Brands chief executive Greg Creed said in a statement.
"Outside of China, our Taco Bell and KFC divisions continued to sustain their positive sales momentum while Pizza Hut was relatively flat. Given our lower full-year expectations in China, combined with additional foreign exchange impact, we now expect 2015 EPS growth to be well below our target of at least 10%."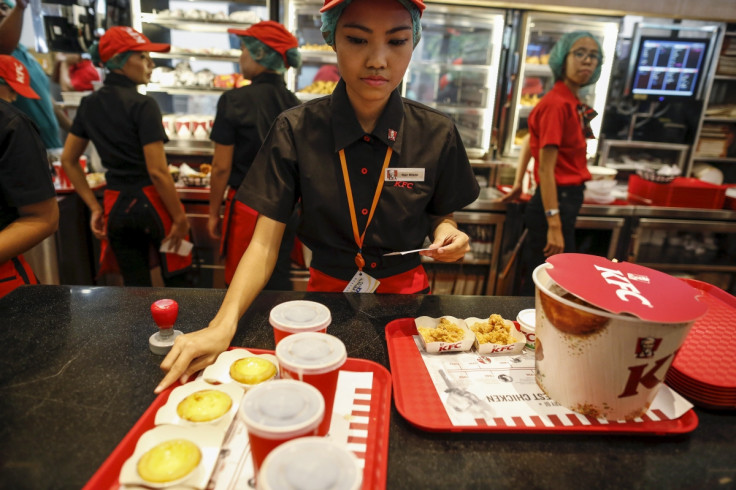 Sales in China were up 8% from a year earlier in the third quarter but same-store sales, which exclude sales from newly-opened stores, were up just 2%. Yum has been trying to rebuild its image in the country after a July 2014 news report alleged that one of its suppliers was selling meat that was past its expiry date.
Global system sales were up 6% from a year earlier, with KFC reporting a 6% increase, Taco Bell a 7% rise, and Pizza Hut a 2% rise. Yum opened 376 new restaurants in the third quarter, with about three-quarters of this development occurring in emerging markets.