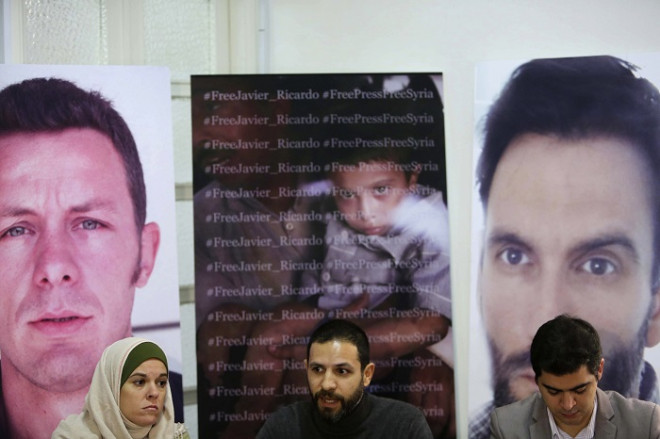 Two Spanish journalists kidnapped in Syria six months ago by a radical group linked to al-Qaida have been released.
Spanish newspaper El Mundo confirmed that its Middle East correspondent Javier Espinoza and photographer Ricardo Garcia Vilanova were freed and handed over to Turkish authorities near the Syrian town of Tal Abiyad on Saturday.
"At 21.27 (20.27 GMT) veteran El Mundo Middle East correspondent Javier Espinosa called the paper's newsroom and said they had been released and handed over to the Turkish military," the paper reported on its website. The reporters are due to return to Madrid on Sunday.
Espinosa and Vilanova were kidnapped along with a third Spanish journalist, Marc Marginedas, by the Islamic State of Iraq and the Levant (Isis) at a "checkpoint" near the Turkish border last September.
Marginedas, a correspondent for Catalan daily El Periodico, was freed earlier this month.
Four members of the western-backed rebel group the Free Syrian Army, who were protecting the journalists, were also captured but later released.
El Mundo said the two journalists had been trying to leave Syria at the end of a two-week reporting mission when they were captured close to Tal Abiyad.
The pair were held in the nearby city of Raqaa, which fell to Isis last May and remains a stronghold for the group.
Isis is believed to have more than 40 other Western hostages, most of whom are journalists, aid workers and priests. The victims are from at least 10 countries including France, Italy, Belgium, the US, Sweden, Denmark and Peru.
According to Reporters Without Borders, Syria is now the most dangerous country in the world for journalists, with over 110 news professionals having lost their lives in the conflict since the uprising against President Bashar al-Assad began in March 2011.
In total, more than 100,000 people have been killed in Syria since 2011, with a further 5 million people internally displaced.