Ukrainian minister Nadiya Savchenko has been accused of "treason" as controversy rises over her recent actions which included the suggestion that Kiev should relax its claim on Crimea in the short-term if it wants to peacefully regain control of the country's Donbass region.
Savchenko became a cause célèbre in her country – and a symbol of Ukrainian resistance against Russia – when she was imprisoned for nearly two years after being captured by a pro-Russian militia in the Luhansk region.
But she raised ire among colleagues when she told 112 Ukraine TV that the only way to regain control over Donbass was by force and, to do it peacefully, would mean Ukrainian politicians would have to "give up" Crimea which was seized by Russia "for a certain period".
She has also been criticised for publishing lists of prisoners and missing people as well as holding talks with separatists without the backing of her government.
During a hearing of the parliamentary defence committee, the minister Ivan Vinnyk said that Savchenko had committed "deliberate acts to the detriment of Ukraine's territorial integrity, sovereignty, national security – preliminary indicators of treason", Reuters reported.
However, in response, she said: "I'm very ashamed of the people here who at one time promoted themselves off the back of my name and continue to promote themselves off the back of names of political prisoners who are behind bars and continue to defend Ukraine in Kremlin prisons," she said: "You were the first to show what betrayal is".
Stepan Shakhno co-founder of London Euromaidan, the UK arm of the civil protest movement, said the furore may have a negative impact on Savchenko, but her comments were taken out of context and that "she sees a military solution to the problem as an alternative to the peaceful option".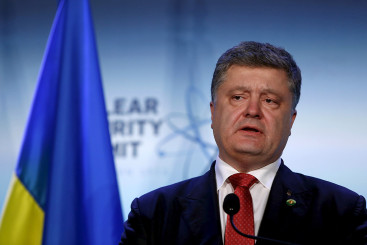 Shakhno said that Putin wanted to keep Donbass in Ukraine on his terms to hamper attempts by Kiev to integrate with the EU and Nato. He added that efforts must be made to stop the Russian leader who wants to control – without having to finance – the region, which requires considerable investment.
"One can only achieve anything by standing up to Russia, by going as far as possible against them, blocking all possible trade, blocking any movement of supplies to the occupied area and effectively stepping up the sanctions," Shakhno told IBTimes UK.
Meanwhile, on the sidelines of the Davos world economic forum, Ukrainian president Petro Poroshenko responded to the question over whether Kiev would get Crimea back, by telling Reuters: "I have no doubt because this is Ukrainian territory, this is the Ukrainian people, this is the brutal violation of international law".
On 18 January, Ukraine filed a legal case against Russia accusing Moscow of funding separatist groups in eastern Ukraine and illegally annexing Crimea.
The United Nations' International Court of Justice will also hear a claim into compensation for the shooting down over Ukrainian territory of Malaysia Airlines Flight 17.
Regarding Crimea, Kremlin spokesman Dmitry Peskov told reporters: "This issue is absolutely not debatable and indisputable for the Russian Federation. We do not discuss the status, situation and the future of Russian regions. This is not a question to be discussed with anybody."