North and South Korea have traded fire across the border amid rampant speculation about the situation in Pyongyang, in the wake of Supreme Leader Kim Jong-un's prolonged absence from the public eye.
Defence officials in Seoul said North Korean troops opened fire on propaganda balloons launched by South Korean activists near border town of Yeoncheon.
Some of the shells landed south of the border, prompting return fire from South Korea. There were no immediate reports of casualties.
The exchange came as a group of South Korean activists and North Korean dissidents floated northwards balloons carrying some 20,000 anti-Pyongyang leaflets as well as 1,000 US$1 bills, propaganda DVDs and thumb drives.
The launch was planned in conjunction with celebrations for the 69th anniversary of the founding of North Korea's ruling Workers' Party of Korea.
North Korean authorities said the stunt was "little short of a declaration of a war."
"If the South Korean authorities allow or connive at the projected leaflet-scattering operation, the North-South relations will again be pushed to an uncontrollable catastrophe and the provokers will be wholly accountable for it," the Secretariat of the Committee for the Peaceful Reunification of Korea said ahead of the event.
Analysts were closely watching Friday celebrations in Pyongyang for signs of what might be happening North Korea, with Kim missing from the public scenes for more than a month.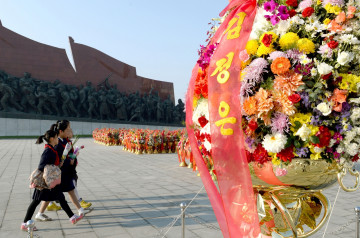 The dictator did not turn up for the ritual visit to the Kumsusan Palace, a mausoleum for late leaders Kim Il-sung and Kim Jong-il for the first time in three years, adding fuel to speculations that he might be ill of have fallen victim of a coup.
Seoul played down Kim's absence saying they believed the young leader was still in charge of the communist state.
"It seems that Kim Jong-un's rule is in normal operation. With regard to his specific health conditions, our government has no information to confirm yet," Seoul's unification ministry spokesperson Lim Byeong-cheol said.