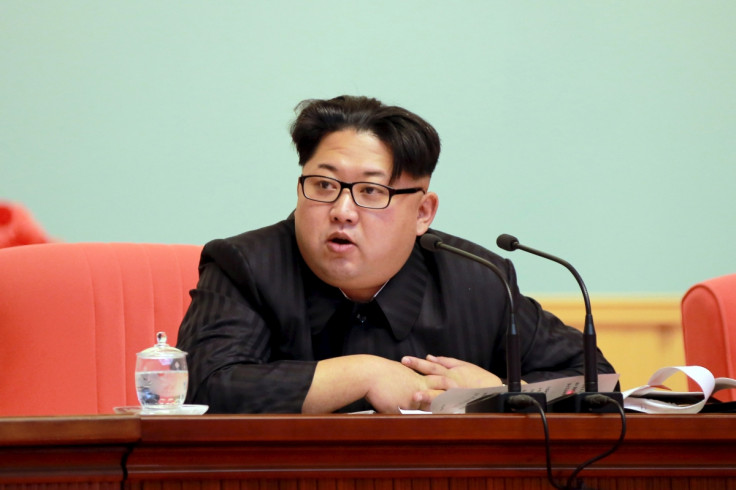 North Korean dictator Kim Jong-un has said that his country's arsenal of nuclear weapons should be ready for use "at any time" after he launched his latest round of missiles into the Sea of Japan. The despot's comments are sure to deepen tensions with the international community including the US and the United Nations.
On Wednesday 2 March the UN Security Council adopted a resolution imposing crippling sanctions on Pyongyang for its recent nuclear test and missile launches. But just hours later Seoul said its northern neighbour had launched projectiles from Pyongyang's eastern coastal town of Wonsan.
Footage of North Korea launching the six short-range projectiles into the sea was shown on South Korean TV with all the missiles falling harmlessly into the sea at about 10am local time (1am GMT). The isolated nation often makes defiant stunts during times of high tension to demonstrate its belief that it has a right to a nuclear programme.
Kim told his military leaders the country would revise its military posture to be ready to launch pre-emptive strikes, said the Korean Central News Agency, according to the BBC. "We must always be ready to fire our nuclear warheads at any time," Mr Kim was quoted as saying by KCNA on Friday 4 March.
Speaking at a military exercise, he said enemies were threatening North Korea's survival. Kim reportedly added: "At an extreme time when the Americans... are urging war and disaster on other countries and people, the only way to defend our sovereignty and right to live is to bolster our nuclear capability."
Kim is notorious for his anti-US rhetoric blaming Washington for his country's ills and telling his own people that he is preparing to confront them in all-out war. Pyongyang has repeatedly claimed to be able to make nuclear warheads that are small enough to fit on to a ballistic missile, although US officials doubt this.
Earlier this year Pyongyang fired a satellite that could, once-modified, be able to carry a nuclear missile despite warnings from Japan, China, the US and the UN. The satellite launch followed a fourth nuclear test and caused a deepening political crisis with South Korea and led to fresh sanctions.
These included new rules that all cargo going to and from North Korea must now be inspected, while 16 new individuals and 12 organisations have been blacklisted. Hailing the UN Security Council's move, President Barack Obama said: "Today, the international community, speaking with one voice, has sent Pyongyang a simple message: North Korea must abandon these dangerous programmes and choose a better path for its people."