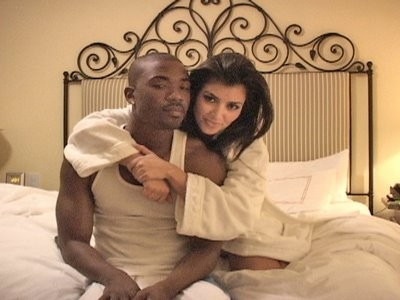 Just weeks after Kim Kardashian's ex Ray J reworked their infamous 2007 sex tape for a diss track targeting her, a porn company is reportedly preparing to release their own version of the reality star's smutty video.
According to celebrity site Hollywoodlife.com, a pornographic remake of Keeping Up with the Kardashians is in the works and this time the whole family gets in on the frisky action.
Porn star Kiara Mia will make her directorial debut as Kardashian with the explicit version of the hit reality TV show and everyone including Kris Jenner, Khloe, Kourtney - and even Kanye West - are set to be spoofed for the adult entertainment world.
"This family is ripe for parody, and we definitely have some laughs at the girls' expense, but the script has a lot of heart and I'm going to have a lot of fun making this movie," Mia said of her new role.
Ray J's character will also make a cameo appearance in the flick being produced by Risqué Films.
In the plot summary obtained by Hollywoodlife.com Ray J, played by John Johnson, will walk in on Kardashian watching Kanye (Flash Brown) recording a song.
"Ray J enters room jealous and outraged, yelling at Kanye, and he is quickly punched and knocked out cold. Kim is so turned on by Kanye knocking out Ray J, that she and Kanye have sex scene in recording studio as Ray J is on the floor knocked out cold," the website reveals.
But although Kardashian, who is pregnant with her first child, will not star in this raunchy flick, West is reportedly not too pleased that she will be indirectly involved in porn.
"I don't think he trips off the small stuff like that. It's just some idiots trying to make a sleazy buck off him and his girl and her family. It's beneath him and tragic if you really want to know how [Kanye] feels."