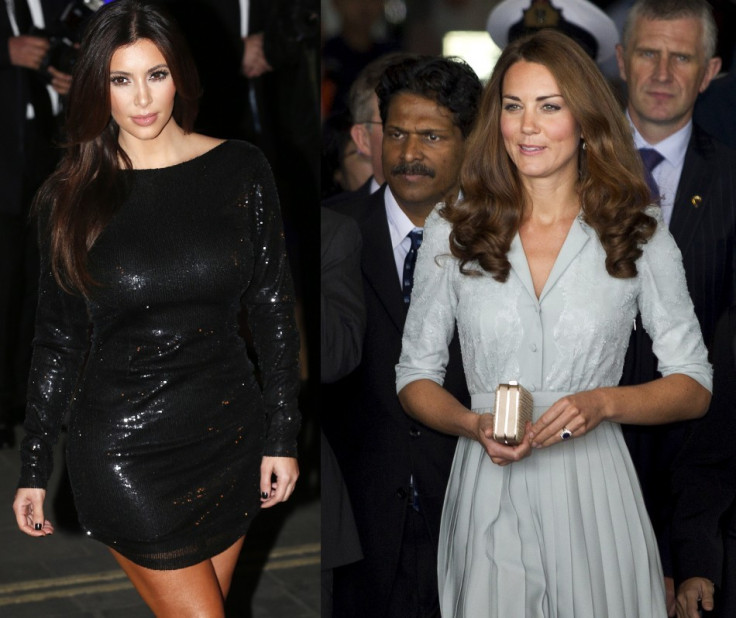 Kate Middleton appears to have snubbed Kim Kardashian by returning clothing items from the Kollection range that were sent as a gift.
Kardashian, 32, is thought to have sent the Duchess of Cambridge garments from the Kardashian Kollection, which she recently launched with her sisters Khloe and Kourtney.
The range is on sale at high street retailer Dorothy Perkins and the reality star had hoped Middleton would improve the brand's popularity by donning items from the collection.
A source told the Daily Star: "While she was in London last week, Kim had several free dresses from her Kardashian Kollection sent to Princess Kate.
"She hoped Kate might be seen wearing one of the designs out in public, which would give their fashion credentials a huge boost.
"The Kardashians want to be as big in the UK as they are in America, and think associating themselves with the royals, especially Kate, will help them achieve that."
Kardashian has previously said she thinks the Duchess would look good in her designs, saying: "She could wear our looks and team it with one of her hats."
However, another source told the Examiner: "Kate is hardly going to turn up for an event with the queen in a cheap leopard-print miniskirt or gold sequined jacket."
A spokesman for the palace said the royal couple do not accept gifts sent by people they do not know.
"In general terms, the policy of the Duke and Duchess of Cambridge is not to accept any unsolicited gifts, unless the sender is known personally to His or Her Royal Highness," he told the MailOnline.
"Any such gifts are returned to the sender with thanks and an explanation of Their Royal Highnesses' policy."
Kardashian, who has said she would like to meet Middleton for lunch, has denied the claims that the Duchess spurned her gifts, calling them "silly gossip".