American television personality Kim Kardashian is pregnant! According to a report by E!News, the 32 year old Los Angeles born star of popular reality show Keeping Up With The Kardashians is 12 weeks pregnant and her boyfriend, rapper Kanye West.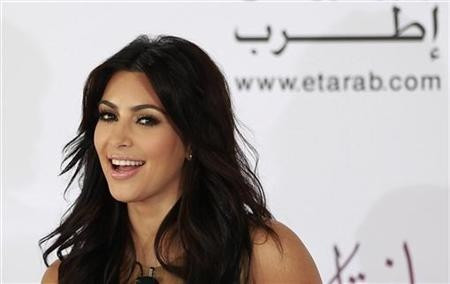 It seems an excited West couldn't hold on to the secret anymore and let slip the good news at a concert in Atlantic City. The rapper commented, mid-concert, "stop the music and make noise for my baby mama".
Meanwhile, congratulatory messages and tweets have begun rolling in, with business magnate Russell Simmons and Kardashian's mother, Kris Jenner, leading the line.
Simmons tweeted: "Congrats to Kim and Kanye. Happy for both of them..."
Kris Jenner tweeted: "Im a happy girl !!!!!!!!! Wowza! Oh BABY BABY BABY."
Other members of the Kardashian clan also took to Twitter, with Kim's sisters - Khloé Kardashian Odom and Kourtney Kardashian - both commenting on "keeping secrets", suggesting the sisters have been aware of the situation all along.
Khloé tweeted: "@RealLamarOdom: I'm excited for Kanye and my sister! There's nothing like bringing life into this world! Let's keep Gods blessings coming!"
Kourtney posted: "Been wanting to shout from the rooftops with joy and now I can! Another angel to welcome to our family. Overwhelmed with excitement!"
And soon after the announcement, the hashtag #kimye went ballistic on Twitter.
2012 has ended on a wonderful note for Kim Kardashian and Kanye West, after all the controversy over her all-too-brief marriage to NBA professional Kris Humphries.
Kanye was reported as planning to propose to Kim over the summer and a few months later, in October, she was spotted a massive 10ct diamond ring while shopping at a Christian Louboutin store; the official story was the ring was a birthday present from Kanye.
In any case, Kim Kardashian is still legally married to Humphries. The court proceedings over the divorce are likely to lead to a full-on trial, with both parties accusing the other of unnecessarily prolonging the split. The end game, though, according to a Washington Press report, is that no decree is expected before May 2013.