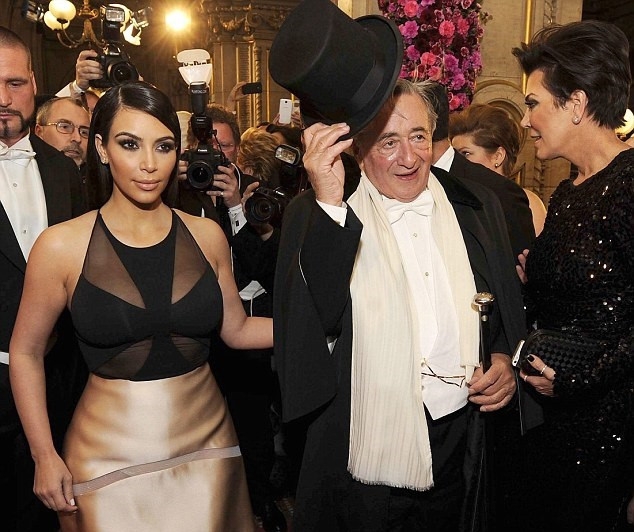 Kim Kardashian has managed to upset her billionaire date, Austrian tycoon Richard Lugner.
The 81-year-old had reportedly paid the reality TV star £500,000 for a series of public appearances, which included accompanying him on an evening at the prestigious Opera Ball in Vienna.
However, it seems the mogul was unhappy with her services as the star took a detour from the evening's agenda to film sequences for Keeping Up With The Kardashians.
"Kim is annoying me because she's not sticking to the program," Lugner told reporters.
Earlier, the 33-year-old looked uncomfortable as she attended a press conference with the senior citizen in front of his shopping mecca in the Austrian city.
The European tycoon was upset that Kim wasn't spending enough time with him, stating that the Kardashian sibling had gone to a Schnitzel restaurant without him to film scenes for her E! reality show.
"She's filming and so she doesn't want to have me around," he said. "The guest should be with me and not anywhere else that is not agreed upon."
He also complained that the TV star didn't want to dance with him, despite announcing at the press conference that she would join him on the dance floor at the ball at 11.45pm.
Arriving at the ball in a sheer black top and pink satin skirt, she said that her mother would be dancing with the senior citizen adding: "I'd rather watch the dancing."
Celebrities who have attended the opera with Lugner in the past have reportedly been paid for anything from between $150,000 and $500,000 have been whispered about.
Other guests of the octogenarian billionaire have included Paris Hilton in 2007, Carmen Electra and Dita Von Teese.
The newly engaged star has been spending more time in Europe as she is planning her summer wedding to Kanye West which will take place in May at a venue just outside of Paris.