Kim Kardashian's relationship with her stepbrothers is known for being distant, and now it looks even less likely to improve, after Burt Jenner took a swipe at the star by sharing a T-shirt featuring her notorious "ugly face" on social media.
Jenner, the eldest son of Kardashian's step-father Bruce Jenner, posted the image of the T-shirt emblazoned with black and white screenshots of the reality star's "ugly crying" faces taken during episodes of Keeping Up with The kardashians. To add insult to injury, he captioned it: "My new favorite shirt".
The 33-year-old reality star, who has previously admitted being "mortified" by the way her face looks like a "lizard's face" when she cries, will undoubtedly be embarrassed by the photo being shared with his 54,000-plus followers.
However some fans flocked to Kardashian's defence, quickly pointing out that the image would embarrass the star and attacking Burt for being "jealous" and "bitter".
On the other hand some followers thought it was brilliant, branding the star "vain" and said Kim should feature the images in her upcoming book of selfies titled Selfish.
Jenner, 35, who owns a dog-sitting business in California, is the elder brother to Brody and Brandon Jenner and rarely appears in Keeping Up With the Kardashians, preferring to stay out of the spotlight.
It was also reported earlier this year that Brody Jenner completely missed Kim's wedding back in May as he was unhappy that his girlfriend Kaitlynn was not given a 'plus one' to attend her nupitals to rapper Kanye West in Italy and France.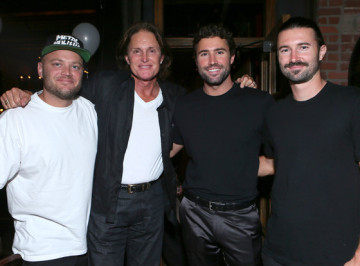 Brody Jenner has also had a frosty relationship with the Kardashian matriarch, Kris Jenner, previously saying to her: "I don't feel like you've ever given two sh*its about the way Brandon and I have grown up".
The Jenner brothers reportedly loathe the vapid, self-centered way the Kardashian women behave and particuarly can't stand them walking all over men, including their dad Bruce Jenner, Rob Kardashian, Scot Disick and Lamar Odom .