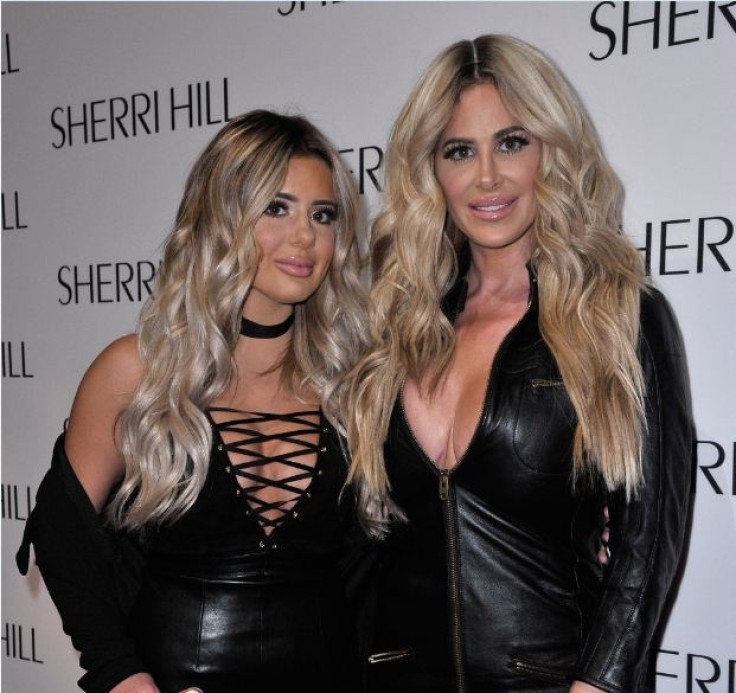 Kim Zolciak is under fire for posting a video with her daughter Brielle Biermann. Though the casually shot video, which was shared on her Snapchat, appeared innocent initially, it shocked fans when the reality star asked her daughter to expose her breasts on camera.
The video soon went viral and social media users slammed the mother-of-six for encouraging her daughter to expose her body in public. In the controversial clip, which was shared on 19 November, Kim appears to have a video chat with her friend [Many people speculate that it was Khloe Kardashian]. And during their casual discussion about pregnancy, she asked her 20-year-old daughter to flash her 't**s' to her friend.
"Show Khloé how big her t**s are gonna be...," she tells her her eldest child who replies – "You think she really wants to see them? She has felt them." "Well show 'em," The RHOA star insists. "She's gonna like sue us for sexual harassment, like everybody else in the world," Brielle said after flashing her breasts. "Poor Ryan Seacrest," Kim answers.
The video has triggered a massive outrage among the reality star's followers. Many of them took it to social media to express their disappointment over the "disgraceful" act.
"She told Brielle to show her boob & she did What on earth was either of them thinking Thankfully 3 minutes later she took it down," one of the fans tweeted. "@Kimzolciak why are you encouraging your daughter @BrielleZolciak to flash her boob then you post it on social media for all to see??! Truly disgraceful," added another.
Seeing the severe backlash, Zolciak issued a public statement on 22 November claiming the video was meant for one of her friend Chloe and not Khloe Kardashian and it got accidentally posted on the Snapchat.
"It was a private snap to my girlfriend Chloe(who fits Brielle and I for swimsuits and Bras) not @khloekardashian That I accidentally posted! So before you assume please check the facts!!!"
However, not many are buying into her explanation and continues to slam her for her parenting style. "What Mother asks their child to show their boob to someone? How do you "accidentally" post it? One of the dumbest things I have ever heard," one Twitter user wrote in response of the 39-year-old reality star's explanation.
"A mother with respect for her daughter and for herself would never ask her to do such a thing! I think Kim needs to attend a parenting class stat!," said another.