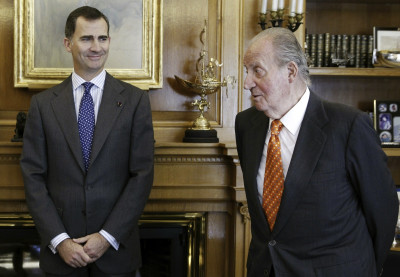 King Juan Carlos of Spain said Crown Prince Felipe is ready to lead the nation into a new era as he passed the baton on to his son in his abdication speech.
In a nationwide televised address the monarch said he made his decision to step down and leave the throne to his 46-year-old heir "with great emotion" when he turned 76 in January.
"Today a new generation must be at the forefront [of Spain]," Juan Carlos said. "Younger people with new energies determined to undertake the reforms that the present juncture demands of us, and face with renewed intensity and dedication the challenges of tomorrow.
"The Prince of Asturia is mature, prepared and has the sense of responsibility necessary to assume the leadership of the state and open a new era of hope," the king said.
Juan Carlos said that throughout his life his only ambition was to contribute to the "welfare and freedom of Spanish people".
Juan Carlos came to power in 1975, two days after the death of dictator Francisco Franco, and had a prominent role in Spain's transition to democracy.
"Today when I look back I cannot but feel great pride and gratitude towards you," he told Spaniards. "Pride for all the good things that we managed to do these years and gratitude for the support that you have given me.
"My kingdom started when I was young, in a very difficult period. We have had now had a long period of peace, freedom stability and progress," he said.
At the end of the address, Juan Carlos thanked his wife, Queen Sofia of Spain, who he said has supported him.
"I will always hold Spain in the depth of my heart," he concluded.
It's unclear when Felipe will be crowned as the government has to deal with all legal formalities required to officialise the succession.
Prime minister Mariano Rajoy said he is confident the process will be completed in "in a very short time".