Schalke striker Klaas Jan Huntelaar is yet to decide where his future lies as he considers offers from England, Italy and Spain.
The Dutch striker is among the most potent in Europe, scoring 29 times in 32 Bundesliga games last season, while he's netted three times in 11 matches this season for Schalke.
Huntelaar is out of contract at the end of the season, and should he not agree an extension to his contract before the New Year, rival clubs will be free to discuss terms over a summer transfer.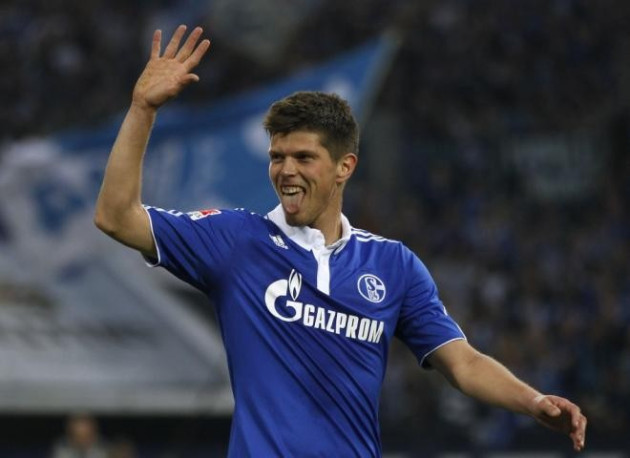 "Klaas has not decided," Huntelaar's agent Arnold Oosterveer.
"He's had offers from England, Italy and Spain. It's also possible he could stay in Germany. He wants his future planned by the winter.
"In the next 45 days he wants to know his next project and it will be decided by his football ambitions and not by money.
"His dream is to fight to win titles in Europe and to have chances to be successful, because today he is one of the best strikers in Europe."
The Netherlands international has been linked with a move to both Arsenal and Liverpool in recent weeks, however both clubs' attacking requirements differ after their fortunes this season.
Arsenal signed Olivier Giroud and Lukas Podolski to replace Robin van Persie who left the club for Manchester United in the summer.
Giroud, the former Montepellier forward who finished as the Ligue 1 top goal scorer last season, has scored six goals, while Podolski has five for Arsenal in all competitions
Liverpool's need for an additional striker is however more pressing, with Fabio Borini out until the New Year, with the onus on Luis Suarez for goals, while 17 year old Raheem Sterling is among the club's main goal threats.
Having only netted 14 league goals this season, five of which came in the win over Norwich City, Liverpool are facing a crisis in attack.
Manager Brendan Rodgers, who decided against replacing Dirk Kuyt, Craig Bellamy and Andy Carroll, who joined West Ham United on loan until the end of the season, after missing out on signing Clint Dempsey, and the Northern Irishman says he wants Liverpool to sign a striker in the New Year.