Kremlin-Backed Russia Today Compares Prince Charles to Nazi Following Putin Hitler Storm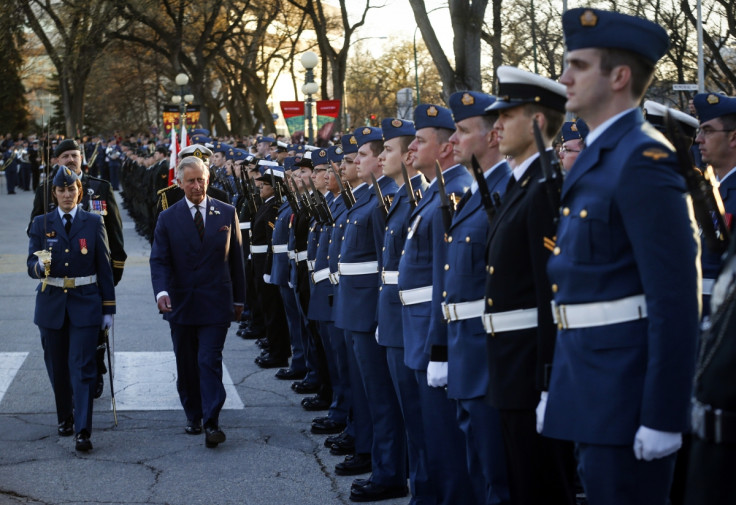 The Kremlin-backed news channel Russia Today has reacted to Prince Charles' comments likening Russian President Vladimir Putin to Adolf Hitler by detailing the royal family's ties to the Nazi party.
RT said that the future monarch should look at his own family history before commenting on Putin's actions in Ukraine.
"Perhaps royals are better seen and not heard," said RT presenter Anissa Naouai on the 'In the Now' programme. "If anyone knows real Nazis it's the [British] royal family."
She proceeded to show a video clip which illustrated various historic family ties of Prince Charles.
Naouai said that Charles' great uncle the Duke of Windsor visited Hitler at his Obersalzberg residence and that his wife, Wallis Simpson, "hung out with Hitler".
The clip continued to show other relations, such as Charles' sister Sophie who was married to an SS officer and Prince Harry who has previously dressed in Nazi regalia for a Halloween party.
"And then Prince Charles's very own son likes to dress up like a Nazi even if it's just for Halloween," Naouai added.
"The royal family should look at their ties before Putin and Charles meet in a couple of weeks to commemorate defeating Nazis in World War Two. That could be awkward."
Earlier this week, the Russian Foreign Ministry declared that Prince Charles' remarks were "not worthy" of a future British monarch.
The ministry condemned the Prince's claim that Hitler's European invasions before World War Two were "not unlike...what Putin is doing" as "unacceptable, outrageous and low".
"The remarks did the prince no credit, if he really said this," a Russian Foreign Ministry spokesman said.
© Copyright IBTimes 2023. All rights reserved.