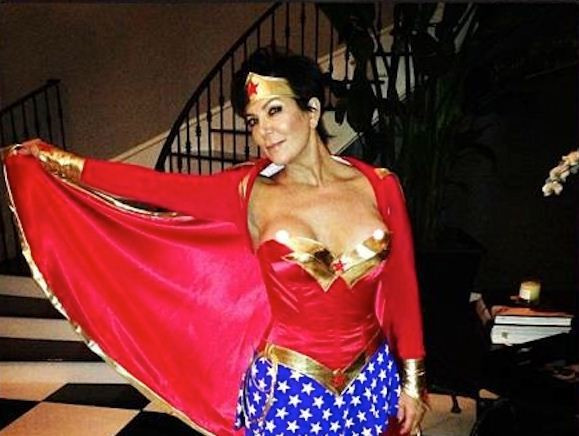 The Kardashians' mother, Kris Jenner, suffered an embarrassment after she accidentally tweeted a picture of her nip-slip in a Wonder Woman costume for Halloween on Twitter to her two million followers.
Later, realising she had had a wardrobe malfunction, the 56-year-old deleted the picture from her account but the world had already got a glimpse of it. Her daughter Khloe Kardashian Odom was among the first ones to re-tweet the picture and share it with her 7.7 million followers along with a caption: "Hi nips. That's my mom."
The mother of six who recently had a breast implant surgery in order to have her old ones removed appeared to be least bothered about the hype.
"Jeeeez what's all the fuss about?!!! It's just an innocent nip slip, happens to the best of us," she posted on her account in defence of her photo. Jenner's daughter, Kim Kardashian, had worn the same outfit back in 2008 when she attended PAMA's Halloween Masquerade at Stone Rose in Los Angeles.
Celebrities are not new to posting their nude pictures on Twitter: recently Alison Pill, the star of television series Newsroom, had also accidentally posted a topless photograph of herself on Twitter.
Kim Kardashian Puts Herself on Worst-Dressed
Recently, Kim admitted she made a fashion blunder wearing a cropped yellow suede jacket and leather mini skirt and thinks she deserves to be on the worst dressed list.
The reality star has been trying to revamp her style to fit in with her high-profile rapper boyfriend Kanye West. Reportedly, West, who is famous for his jewellery and ostentatious lifestyle, views the Duchess of Cambridge as a fashion icon, and wants Kim to follow her elegant English style.
"I am putting myself on the worst dress list for this outfit!," she posted on her official blog. "I wanted a little colour while I'm living in Miami, so my intentions were good, but the cut isn't for me! You definitely need to be taller and thinner to pull this jacket style off! Fashion is all about experimenting to try and find your style and you have some hits and misses along the way. The mirror was lying to me this day! Where were my sisters or my boyfriend when I needed a good opinion?! LOL"