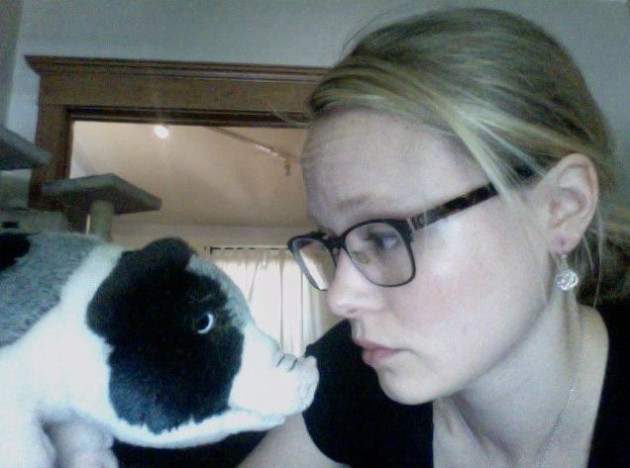 Alison Pill, the star of television series Newsroom, accidentally posted a topless photograph of herself on Twitter. The 26 year old was in a photograph wearing only a pair of thick-rimmed, oversized glasses. She was quick to delete the photograph but not before her 20,000+ followers and the Internet took it across the world.
"Yep. That picture happened," Pill later tweeted, adding, "Ugh. My tech issues have now reached new heights, apparently. How a deletion turned into a tweet... Apologies."
The actress' fiancé, actor Jay Baruchel, laughed off the situation and took potshots at Pill's tech skills.
"My fiancee is an hilarious dork. #imjustgladitdidnthappentomefirst," he tweeted, adding, "Smartphones will get ya. CC @msalisonpill #vivaludditism."
Ice Wine Yard Wedding Plans
The couple met while filming Goon and Baruchel proposed to Pill in December 2010. The wedding, for this all-Canadian pair, is to happen in Quebec. But that isn't the surprising thing.
"We're getting married at an ice wine vineyard," Baruchel told Us Weekly in February, "Me and the groomsmen will all be wearing kilts! I'm really excited to see all the...hairy, chubby legs. I just hope my groomsmen wear underwear!"
Pill, meanwhile, who played Maggie Jordan on HBO's The Newsroom (ended a few weeks ago), was recently spotted at New York Fashion Week in a peplum dress by Chris Benz.
"I love Maggie's style," she told Lucky magazine, when asked about her character's style quotient, "I work so well with our amazing costume designer, Hope Hanafin, who is just a goddess of clothes. She's great at creating different stylistic choices for each of the many, many characters-she has a lot on her plate. From the beginning of the first episode, the pilot, I just said, "I'm really obsessed with waists right now."
Pill Wants Marijuana for Birthday
Finally, when faced with a birthday cake (it was Benz' birthday), Pill admitted she hated these days.
"I hate birthdays more than anything in the world," she explained, adding, "I get my hair and makeup done daily and I get dressed daily, so the idea of being hair-and-makeup-ed and dressed for a particular day of any kind feels like work."
Her ideal birthday is a little different.
"The best birthday in the world is to have, at most, five people over for a barbeque and to make tofu because it's my birthday and they have to like it. I want a birthday that involves me and the movie Oliver and Company and some champagne and some marijuana- and I'm speaking into the microphone because it should be legal," she said.