Team GB continued their equestrian dominance at the Olympic Games as Kristina Cook kept her cool to help secure three-day eventing silver at Greenwich Park.
The quintet of William Fox-Pitt, Nicola Wilson, Zara Phillips, Mary King and Cook, who were second after day two's cross country stage, kept hold of their silver medal position with a score of 138.20 after the jumping phase, with gold medallists Germany finishing with 133.70 and New Zealand winning bronze with 144.40.
Phillips, King and Phillips did all qualify for the individual final but error stewn runs saw the trio finish outside the medals, with German Michael Jung adding a third major title to his team gold, Ostholt Alogtsson winning silver after serving one penalty, and Sandra Auffarth claiming bronze.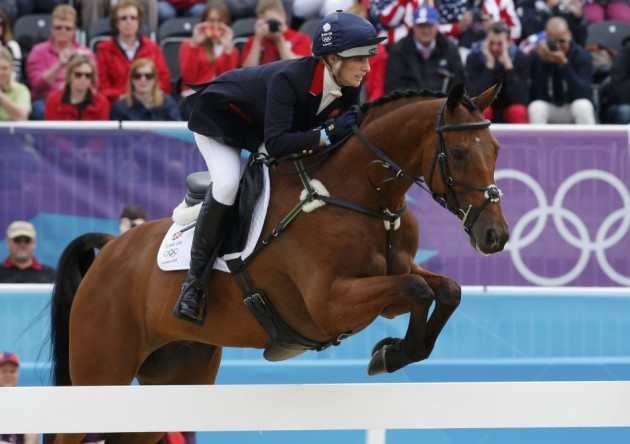 King, who marked her sixth Olympic Games with a fifth placed finish in the individual standings, said: "I was thrilled to jump a clean round for the team in the first round, it was actually my first clear round in the Olympics Games I've done five of them already, so fantastic.
"Obviously disappointed with my two down where I made mistake there's a big lion in the middle of the arena, a big bronze lion and I went near it and it scared him which was not a very clever thing to do and because of that he was a bit wizzy at the first part of the course but then settled and jumped beautifully."
Cook, who finished sixth after two penalties, said: "It had gone really well but it is a disappointment, you want to go in there and jump neatly around, I'll get over it I'm beating myself up, I was just a bit flat today.
"Over the first fence, I'm not sure which other one I had down. You want to be there going for gold so I am a bit disappointed but I am thrilled for the team, it's a silver, gold would have been amazing but silver is great."
On the team bronze, Cook added: "It's one of those things you think it won't happen to me. Honestly I was just trying to focus on jumping a clean round and I couldn't afford it.
"The team, have done so well and it was so close, we could have got silver or nothing and that would have been awful so, gold would have been brilliant, silver is fantastic.
"It's brilliant for Equestrianism and it's great for our sport and it shows from how many people are hear watching us but we've got to get back in there and do it again and get an individual medal that's what I really want."
Phillips, who had her bronze medal presented to her by her mother HRH The Princess Royal said: "I have not really had a chance to reflect on the team silver. We should have been able to do more but they (Germany) were too good for us.
"It is disappointing but at the end of the day we have a team silver medal, and we did not go down. The team have been awesome this week, with some massive performances, and it has been a real honour to ride with everyone."