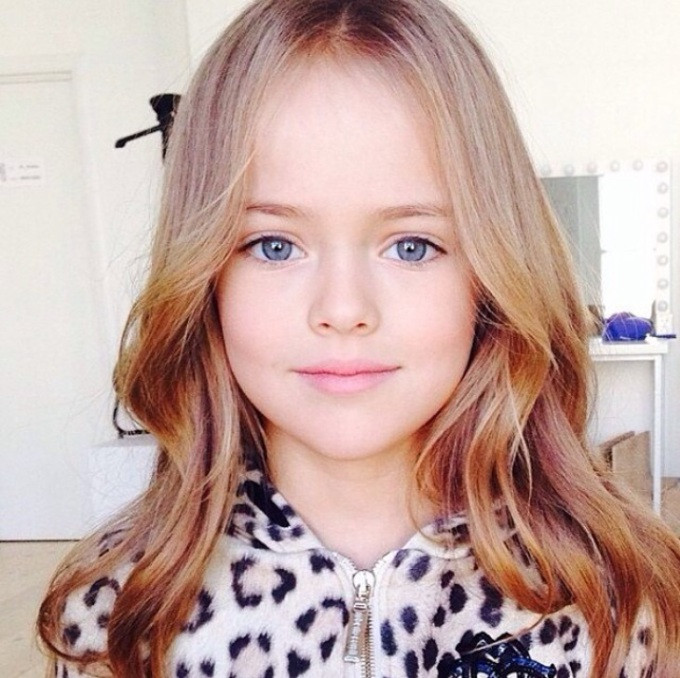 The mother of a nine-year-old supermodel dubbed 'the most beautiful girl in the world' has slammed critics who accused her of sexualising her daughter, claiming that they have the minds of "paedophiles".
Kristina Pimenova, who started modelling at the age of three, has fronted campaigns for major brands including Roberto Cavalli, Dolce & Gabbana, Armani, and Benetton. She has also graced the covers of several high profile magazines.
Thanks to her piecing blue eyes, honey blonde hair, and innocent facial features, she has earned legions of fans in her native Russia and across the globe.
Despite her impressive achievements, critics insist that the little girl is being left vulnerable to online predators and pictures of wearing hot pants or short skirts are inappropriate.
"You are [sexualising] your daughter, and parents like you are the reason why girls grow up to have many issues... also there are so many sick [people out there] that look at these in sexually ways," one said.
Speaking to the Daily Mail, Kristina's mother Glikeriya Pimenova said that the images posted on her Instagram and Facebook pages were innocent and that she would never do anything that would leave her daughter vulnerable to predators. "I do not accept those accusations about sexualisation of my child," she said.
"I am certain in my mind all her photographs are absolutely innocent. I have never asked her to take this or that pose, and in fact I must say she does not especially like it when I am photographing her, so I do it quickly and when she doesn't notice."
The 39-year-old former model who is married to Russian football player Ruslan Pimenova added: "You must think like a paedophile in order to see something sexual in these pictures, so it is time for you to see a doctor."
Despite her mother monitoring all her social media accounts and warning that all content shared "should be kid friendly", it hasn't stopped male followers littering the comment section of her Instagram page - which has 315,000 followers to date - declaring her a "babe" and praising her "long legs."
"I think people who post something like this have serious psychological problems," Pimenova said.