Kurdish flags flying over liberated Euphrates Dam stoke ethnic tensions in Syria
The SDF's Kurdish majority will be seen as foreign occupiers by the village's Arab population.
Ethnic tensions are brewing in Tabaqa after the US-backed Syrian Democratic Forces (SDF) captured the northern village and its neighbouring dam earlier this week (10 May).
In a symbolic move, the Isis flag was torn down from buildings and replaced with that of the new occupying force, but that flag was surprisingly not that of the SDF.
Instead, it was that of the Kurdish militia group known as the People's Protection Units (YPG) who make up a core contingent of the SDF.
Their giant red, yellow and green flags were hoisted along the wall of the massive Euphrates Dam for the whole village to see, in a move likely to antagonise locals rather than make them share in the YPG's celebrations.
For the residents of the strategically important Tabaqa, escape from Isis control simply means rule by another foreign group with the SDF dominated by Kurds rather than Arabs.
The matter was complicated further when a majority of Arab fighters pulled out from the SDF days before the offensive in Tabaqa began.
Mahmoud Hadi, head of the Raqqa Revolutionary Brigade (RRB), the main Arab group who refused to fight in SDF alongside the YPG, told Middle East Eye: "The brigade refused to participate in the operation because the YPG did not keep to what we had agreed – that the battle be led by the brigade and that the fighters all come from Raqqa itself.
"Everything had been agreed beforehand, we even agreed which flags would be raised... and that the brigade would be in charge of the administrative and security management of the city afterwards.
"But what happened on the ground has unfortunately been the complete opposite to what we had agreed."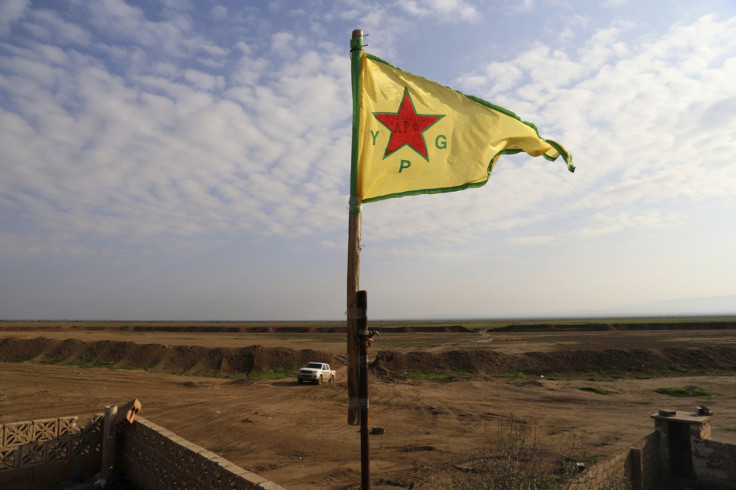 A file image of the flag of Kurdish People's Protection Units (YPG).
Reuters
Hadi added that split was caused because the US coalition assisting the SDF pressured the YPG to sideline the RRB.
With its decision to empower the YPG, the US also caused tensions with Turkey who sees the Turkish group as a terrorist organisation as it is sistered with the Kurdistan Workers' Party (PKK).
The US has since sought to reassure Turkey that everything will be done to protect its fellow Nato ally, but how Turkey and Arabs in Tabaqa will react to Kurdish forces there is yet to be seen.
© Copyright IBTimes 2023. All rights reserved.