Friday evening (24 June), Kylie Jenner was seen holding hands with ex-lover Tyga, days after kissing her allegedly current boyfriend PartyNextDoor in his new music video Come And See Me. Jenner took the 26-year-old rapper as her date to the premiere of Kanye West's controversial Famous video in LA just hours after the Rack City rapper sparked rumours that they were back on.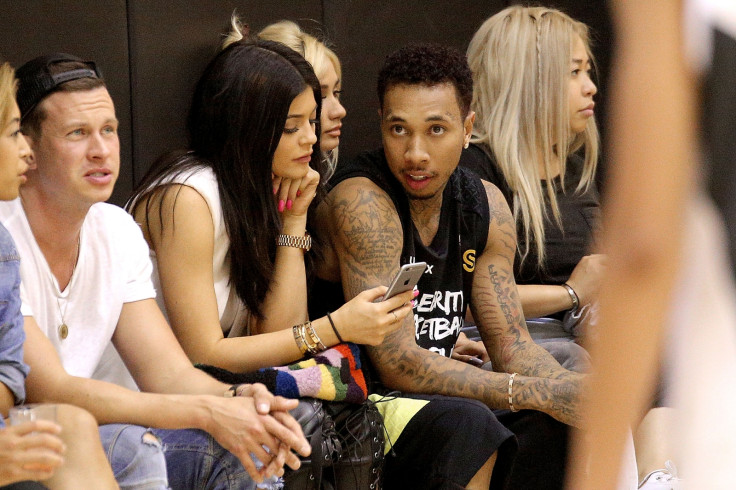 According to US magazine, the pair who split in May, were holding hands as they left the premiere of the NSFW video at The Forum in Los Angeles.
Earlier on Friday, Tyga posted then deleted an Instagram photo of the 18-year-old reality star sitting on a bed along with the caption "They always come back..."
The rocky twosome arrived at the venue in the reality TV star's Rolls Royce and joined her mother Kris Jenner, sisters Kim, Khloe, Kourtney Kardashian and Kourtney's ex Scott Disick at the Famous premiere. An eyewitness told ET that while Jenner and Tyga didn't display any PDA at the event (which was live-streamed on Tidal), it was "clear they were together".
"Tyga was so cheery the whole time. Kylie was on her phone for the majority of [the show], taking a selfie with Kris and at some points leaning into Tyga," the eyewitness revealed.
When speaking about The Keeping up with the Kardashian star's relationship with Tyga, a source told E! News on Friday (24 June): "They are not back together officially but started seeing each other again romantically. It's not as much pressure this time around because they both have had some space over the past few weeks apart. Tyga wants to get back with Kylie though." The pair had been dating on and off for two years.
A source told Media TakeOut that her alleged boyfriend PartyNextDoor is brushing off the fact that his video girl is dating her ex-boyfriend again. One of the rapper's friends said: "[PND] just borrowed her and then returned her when he was done." He continued: "Tyga can have her back."