Is Tyga jealous about ex-flame Kylie Jenner and PartyNextDoor's (PND) rumoured romance? The Rack City hit-maker shared some eye candy photos of himself with model Amina Blue after PND — real name Jahron Anthony Brathwaite — released a new music video that shows Kylie Jenner kissing the rapper in a rain drenched scene.
Jenner and PartyNextDoor sparked dating rumours following The Keeping Up With The Kardashians star's breakup from ex-flame Tyga in May. The teen reality star and the 26-year-old rapper dated for 18 months before ending their relationship.
According to The Daily Mail, the photos Tyga shared on Snapchat were taken in Jamaica in May. The model will appear in the rapper's yet-to-be released video for his new track 1 Of 1, it reported.
Before Jenner and Tyga's split, the 18-year-old appeared in two of the rapper's music videos: Stimulated and Dope'd Up.
According to HollywoodLife, Tyga is not a fan of PartyNextDoor's new track Come And See Me.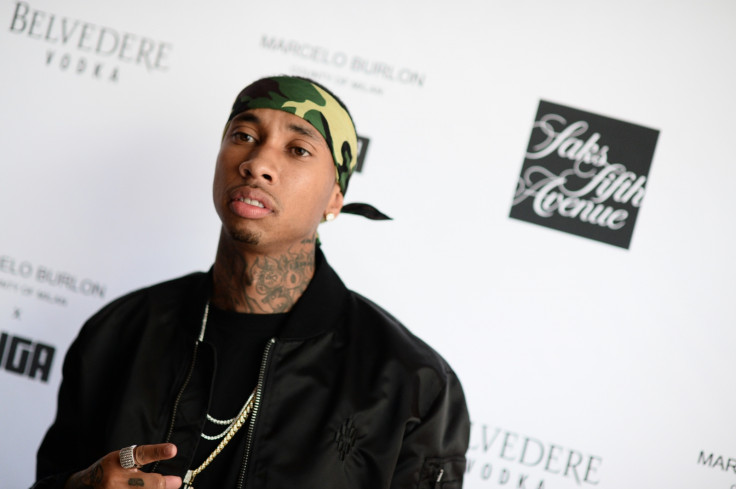 "There's no comparison between $timulated to PND's second rate video," an insider told the gossip site.
"Come on now. That was a joke in Tyga's eyes. $timulated was epically edited, the lyrics were banging and Kylie looked better than she ever had in her life in $tumulated. Besides, Kylie begged Tyga to put her up on game in the music world and he did. He did her a favor by putting her in his video. And this is how she thanks him? Tyga's at a loss for words when it comes to this immature teenage girl."
In May, Tyga was linked to lingerie model Demi Rose Mawby, who he was spotted with in Cannes. They were seen enjoying each other's company while shopping for hand bags and were later pictured during a dinner date. But soon after the romance rumours between him and the model were doing the rounds, the rapper tweeted: "Single. Focused. Blessed. Living Life (sic)."