Kym Marsh opens up about miscarriage – Corrie viewers share grief on Twitter after stillbirth story
Marsh, who plays Michelle Connor on the soap, spoke about the loss of her son Archie on This Morning.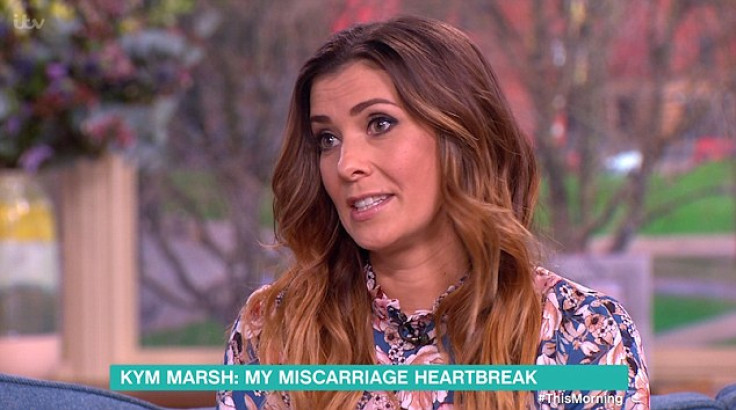 Kym Marsh revealed her real-life heartbreak of losing a child on This Morning today (12 January) following the stillbirth scenes she acted out on last night's Coronation Street.
An emotional Kym Marsh, 40 – who won praise from Corrie viewers after her onscreen character Michelle Connor suffered a harrowing stillbirth – spoke candidly on her own experience in 2012.
Marsh became famous after making it big in pop band Hear'Say before starring on the ITV soap, and has since become a mother to five-year-old Polly from her previous marriage to Jamie Lomas.
In the emotional interview, the actress said she believes her daughter is a gift from her late son, Archie. She said: "We all see Polly as a gift from Archie. If it wasn't for him, no one would have intervened with any problems I had and helped me to get pregnant with her."
She also spoke of how her character Michelle blamed herself for the loss of the child on the soap, claiming it was a feeling that was all too familiar.
Marsh went on: "We hear her say, "What did I do wrong? I am a rubbish mum," and they are all things you think when you go through something like that."
Although losing a baby is considered a miscarriage at up to 24 weeks (5-6 months), Marsh claims that Archie – who was born before the time frame – 'existed'.
She added: "Archie was born before 24 weeks but you've still given birth. He was here, I held him, he existed. But if you were to trace my family tree, he won't be here, because they won't give you a birth certificate."
Her appearance on today's programme comes after viewers took to Twitter to support Marsh following the moving episode, even citing stories of their own experiences.
Some examples include:
Even actor Simon Gregson – who play's Marsh's on-screen husband – spoke of his own experience, of feeling "completely helpless" when his wife Emma tragically suffered 11 miscarriages.
The 42-year-old actor told The Mirror: "As a bloke, being there and witness to all this, you feel completely helpless. They're real emotions that have been brought back up."
Coronation Street continues at 7.30pm on ITV tomorrow night.
© Copyright IBTimes 2023. All rights reserved.