Lee el articulo en Español aqui.
Veni, vidi vici. Latin for 'I came, I saw, I conquered.' The phrase seems particularly apposite when one considers David Moyes' spectacular start in Spain.
If La Liga had begun at the start of 2015, Moyes' Real Sociedad would currently lie sixth in La Liga. Since the start of the year they have mustered 17 points in nine games, form which compares favourably with the biggest beasts of the Spanish jungle; in fact the hypothetical 2015 table puts them one place ahead of Real Madrid, the current European champions.
The Basques were stuck in 19th position when they decided to sack Jagoba Arrasate and hire the former Manchester United manager. Supporters at San Sebastian feared relegation, as the club had lost their best three players (Illarramendi, Bravo and Griezmann) in the last two years and the few players who had joined had only lowered standards.
The team had no pace, no strength, no physical condition and was foored by the first setback in every single match. In order to make a shift in the situation, president Jokin Aperribay tried to sign a box-to-box and a speedy winger during the winter transfer period but he failed. So Moyes was faced with the task of building a Ferrari with Sauber parts (no disrespect to the F1 team).
His creation may not be an out-of-this-world Italian prototype, but it has all the hallmarks of German engineering. Sociedad's meteoric rise from 19th to 9th place is based on a solid defence, a combination of possession and long ball tactics, and a drastic physical improvement in the whole squad.
Under Moyes's tenure, the statistics are more than decent: seven wins, six draws and four losses in 17 games. Moreover, when Moyes arrived in San Sebastian, his current team had won just two games at their Anoeta Stadium. Yet Sociedad boast the fifth-best home record in La Liga during the four months of his tenure.
The Scot has been able to increase the value of almost all his players. Gero Rulli had not made his La Liga debut when Moyes arrived. Today, he is one of the main reasons for Sociedad's improvement and his performances have earned a first call-up by Argentina.
The judgement of the social networks is clear, and favourable. "Manchester United were wrong. They did not have patience, as they had with Ferguson. This is no longer the 80s" tweeted Carlos Aitor Yuste (@aitoryuste), a Basque supporter, last week.
Following this line of thought, Real Sociedad's fans think last season's United failure has been a blessing for their club. They are not far from reality, as we should not forget that, before 2013, David Moyes was one of the most highly-rated managers in Europe. It would have been impossible for the Basques to lure Moyes without last season's disaster at Old Trafford.
"He inherited a squad he did not design in Manchester, and something similar has happened to him in San Sebastian. He is a top manager when it comes to building new teams, so we are looking forward to next Summer. So far, we are just realising what a big professional Moyes is", writes Iván Ruiz (@sabredigitala), on twitter.
But was his last season in the Premier League such a disaster? Liverpool supporters still ironically call the former United manager a "football genius". Yet if Moyes failed in his quest to live up to the "chosen one" tag at United, Louis Van Gaal is also falling short, as United's current season under the Dutchman's tenure is clearly below expectations. And this is despite a huge investment - almost £130 million splashed on Di María, Herrera, Rojo, Blind, Falcao and Shaw.
Real Sociedad's budget for a whole season is almost £35m, including signings, wages, everything. United's season in the FA Cup and Capital Cup has been extremely disappointing. And right now, Red Devils face a battle to hold onto fourth place in the league. If they fail, they won't even have Champions League football to mask the frustration they have endured this years.
While United are struggling to relocate the path to trophies, so well-trodden under Ferguson, Moyes has been able to prove his talent in a different league, without any signings, in a different language, and in just four months.
Were the United supporters and directors wrong? Did Moyes deserve more patience? It is debatable in the UK, but not in the north of Spain.
The man who cut his managerial teeth at Preston wants to stay in San Sebastian for a long period. He is looking for an apartment in Miraconcha, one of the most expensive streets in Spain. So expensive that Bruce Springsteen ruled out the idea of buying a flat in this zone five years ago. "For this price, I can buy a mansion in USA" declared the singer according to Basque Media.
The Scott felt in love with "Villa Manolita", an emblematic building in the aforementioned street, but he has told local media that "even though we thought that was the right place to leave, we still searching for another option." Four months after his arrival, he still lives in the five-star María Cristina hotel, and is clearly loving it, telling reporters: "I am lucky to stay in this wonderful place".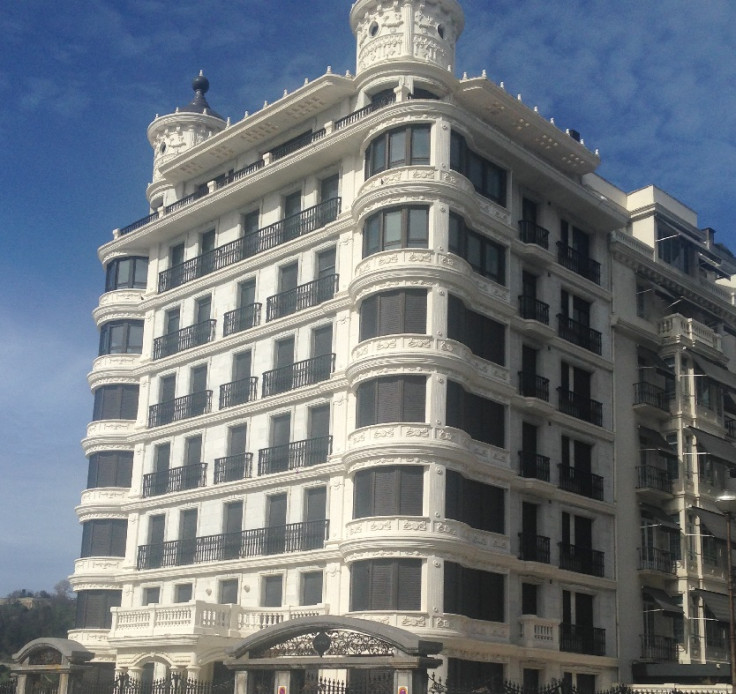 Things have not gone that smoothly when it comes to picking up Spanish."It is something which I am desperately keen to improve", Moyes told the BBC this week. "I have offered to do more, but my Spanish teacher is saying not to go faster because I won't pick it up. It is difficult to communicate sometimes, but nine of my players speak English".
Moyes is on a roll, this season's expectations have been exceeded, and the Scot is starting to prepare his next squad, with a revolution expected. Gorka Elustondo, Enaut Zubikarai and Dani Estrada will be allowed to leave while Etienne Capoue, Nabil Bahoui and Danny Ings are being scouted according to local media and Real Sociedad's board of directors. Ambitious names for an encouraging project.
Oier Fano Dadebat is a Spanish journalist who divides his time between San Sebastian and London. You can find out more about him on Twitter @oierfano.