La Liga: Former Manchester United boss David Moyes pays tribute to Liverpool and John Aldridge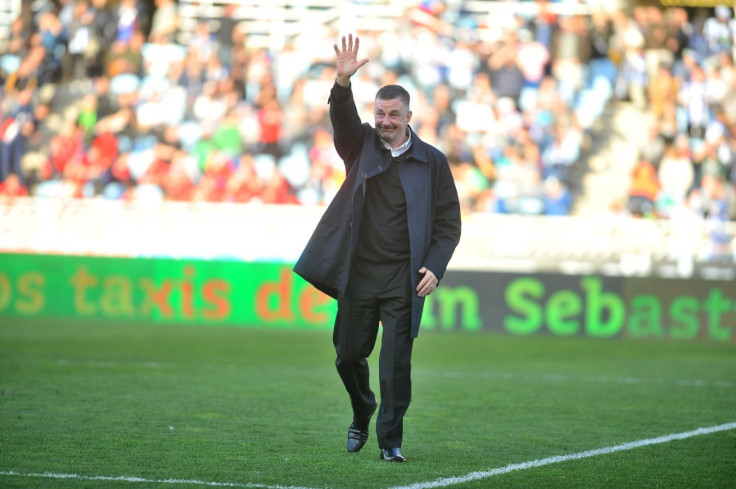 Anoeta Stadium hosted an unforgettable day on Sunday. Basque supporters paid tribute to Liverpool and Real Sociedad legend John Aldridge, 25 years after his debut in San Sebastian.
Aldo, who was greeted by a standing ovation, entered the pitch and praised the fans at half-time. The Irishman, who is recording a documentary about his life this week, was the first foreigner in the modern history of Moyes's current club. He needed only two stunning seasons (40 goals in 75 games since 1989) to remain in the hearts of 'Txuri Urdines.'
Thanks to Aldridge, Xabi Alonso, John Toshack and even 'King' Kenny Dalglish, both Liverpool and Real Sociedad will be joined at the hub, sharing a blend of anecdotes and mutual respect.
Moyes's club had the best years of its life during the eighties. Real Sociedad won two leagues, one Supercup and the Copa del Rey and reached the European Cup semi-final. But at the end of the decade, they decided to abandon their Basque-players-only philosophy. They wanted to keep the standards high.
The "foreigners" issue was a contentious issue for fans, until Aldridge arrived for £1m, and began scoring all manner of goals as soon as he arrived.
His signing generated such big expectations that a group of supporters, a butcher among them, made a promise. After every goal, they would award John Aldridge with a 2 pound Txuleta -a delicious basque steak which is often sold with a "go big or go home" motto, which perfectly encapsulates Basque behaviour. Aldo was reportedly addicted to txuletas; perhaps this was why he did so well at Anoeta, and nearly drove the butcher to bankruptcy.
The Irishman's first season ended with Real in the Europa League positions. During his second, he finished just behind Real Madrid's Emilio Butragueño in the scoring charts. But Aldo's family did not adapt to the Spanish lifestyle – even if this sounds impossible – and his Basque adventure ended, leaving a permanent footprint in San Sebastian.
But the mutual admiration between Real and Liverpool began well before Aldo. In fact it started in 1975 when the two clubs clashed in the Uefa Cup. Reds supporters were labeled as violent before visiting San Sebastian, so extensive measures, such as heavy police presence around the city and near the Old Atocha ground, were taken. However, the Merseyside supporters' behaviour was amazing. Friendly scenes were described in local newspapers, which hailed the "noisy, brave and colorful" visitors. Liverpool won 3-1.
In the second leg, the Reds smashed the Basques 6-0. Still, it was a very emotional match, as Pedro Gabilondo – the journalist who has covered more Olympic Games than any Spanish scribe in history – tells IBTImes UK.
"I was there, at Anfield. They destroyed Real, but instead of humiliating us, The Kop started to sing 'Sebastian, Sebastian' for minutes in order to thank the affection received in the first leg. It was a courteous attitude that will remain in our memory."
Tosh the pioneer
That 1975 squad featured Highway, Keegan, Clemence, even a certain John Toshack. When he finished his career as a player, the Welshman arrived at Real Sociedad in 1985. Never seen without his J.P.R. Williams rugby jersey, 'Tosh' guided Real to their second Copa del Rey title in 1987, after a penalty shoot-out against Atlético de Madrid. In terms of games managed, Toshack holds the record for any Sociedad boss, with 386 matches (158 of which were wins).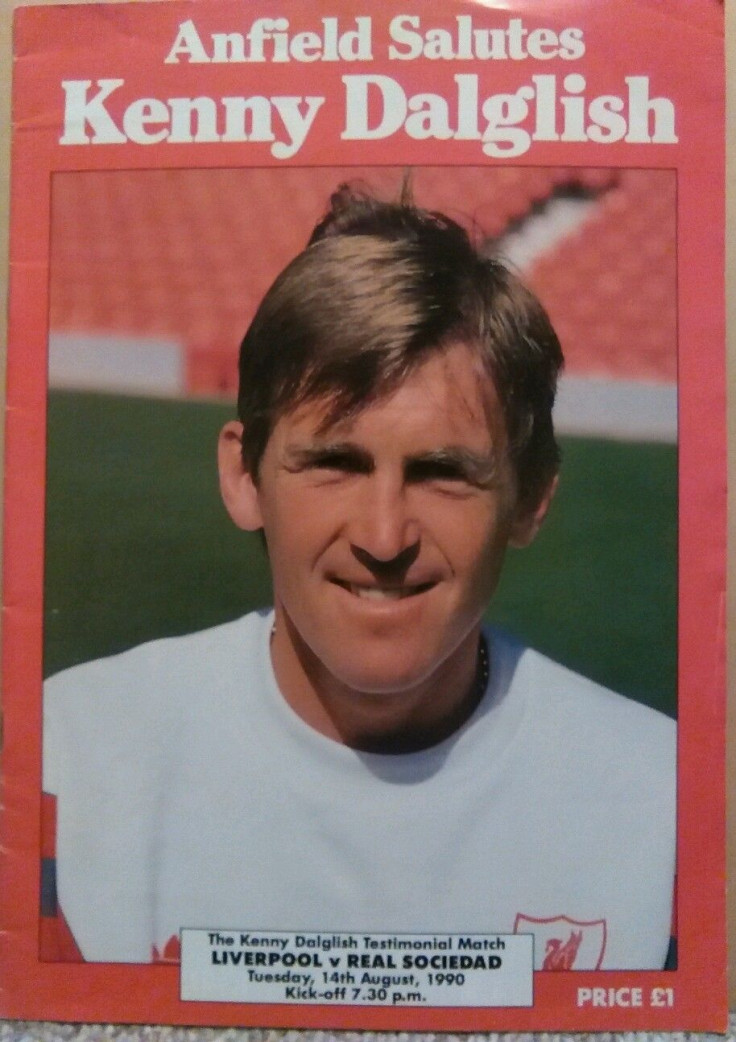 The programme for Dalglish's testimonial in 1990.
Oier Fano
The links between the two clubs strengthened in August 1990, when Reds invited Real Sociedad to celebrate King Kenny Dalglish's testimonial match,which Liverpool won 3-1. However, the zenith of this 'love story' came between 2004 and 2009, and Xabi Alonso is responsible for it.
As if it was a matter of fate, he made his debut at Anfield after years of being managed by John Toshack in Spain. Supporters in San Sebastian adore Xabi and many Liverpool shirts dyed the city in red. "We sold thousands of Liverpool replicas with Alonso's 14 in the back, it was amazing to see" remembers Pako Ayestaran, Rafael Benitez's assistant during that period.
During his four wonderful seasons at Anfield, thousands of Basque supporters travelled to LIverpool to see Alonso's maturation into one of the world's best midfielders. Bayern's midfield maestro always took care of his relatives, friends and even his friends's friends, and he always tells a story about this exodus to Liverpool, which became a second home for the San Sebastian community.
"Invitations at Liverpool don't work online. So anytime anyone came from Basque Country, I had to write down, by pencil, their names in an old-fashioned notebook inside the Anfield Road offices. I don't exaggerate when I say I wrote down more than a thousand names there" Alonso said in 2008.
But Alonso's "tasks" went further, as he gave tips and advice to visitors keen to find things to do on Merseyside. He fell in love with Liverpool, like thousands of Txuri Urdines. Real Sociedad's shirt, located on the ceiling of the Albert pub, just near Anfield Road, proves this. Fireworks were let off in San Sebastian in 25 May 2005 when Liverpool lifted their fifth Champions League on a miraculous night at the Ataturk stadium.
Two more former Liverpool players, Sander Westerveld and Bjorn Kvarme, played an important role in Real Sociedad's successful season in 2003. The club finished runners-up in the league in that 2002/03 season, almost springing a surprise against the Real Madrid of Ronaldo, Zidane and Figo. That squad, managed by Raynald Denoueix, had a vital quarterback in the midfield: Xabi Alonso.
This is the wonderful story – narrated in Real Sociedad's Centenary Book – between two clubs linked forever. In addition to that, it is a story that reminds us that footballers and managers coming from Britain and Ireland can succeed, in Spain. John Aldridge and John Toshack know this well.
David Moyes is on his way to similar success, after another win yesterday against Espanyol (1-0).. After the match the Scottish coach paid his own tribute to Sociedad's former striker, saying: "If Aldridge had played 15 minutes today, he would have scored. He was a superb forward".
IBT's La Liga columnist Oier Fano Dadebat is a Spanish journalist who divides his time between San Sebastian and London. You can find out more about him on Twitter @oierfano.
© Copyright IBTimes 2023. All rights reserved.