Imagine for one moment that European footballers were stocks and shares. You could invest in Ángel Di María, Diego Costa or David Luiz. Of course that would lead to near-certain bankruptcy; they would be hugely expensive, and their value would drop wildly.
But if you invested in a Sevilla player, you would no doubt be on the way to a summer house, a Ferrari and a private jet. For at a time when football is riddled with profligacy and ruinous short-termism, Sevilla are a beacon of canny prudence, their buy-low, sell-high policy providing an example for every other club to follow.
Every season, they manage to find bargains that turn into gold, both on the pitch and on the balance sheet. The current Europa League champions have lifted seven trophies in the last decade, one more than Real Madrid, with just a fifth of their budget. Managed by Unai Emery - probably the most underrated manager in Spain - they sit fifth in La Liga and are just six games from winning another European trophy, to add to the four they have already garnered in the last 10 years.
To fully understand Sevilla's miracle we should look back to 2001. The club was suffering a dramatic financial crisis after being relegated to the Spanish second tier. The lack of money forced Sevilla to rely on their youth academy, in which Sergio Ramos and Jose Antonio Reyes were the crown jewels.
They did not have a plan B. There was no money in the club's current account for an alternative project. However, the problem became an opportunity and Sevilla got promoted with a home-made squad.
A couple of seasons later, they sold Reyes, Ramos and Julio Baptista for almost €100 million, and their continued success in Europe demonstrates that, with prudent investment, you can keep winning even if you sell your best players.
The architect of this miraculous run is Ramón Rodríguez Monchi, sporting director of the club since 2000. Speaking to IBTimes UK, Monchi summarises his approach thus:
"We assume that, when it comes to money, Sevilla can not compete against the wealthiest clubs. Neither can we pay €30 million for a single player. So there is no other option.
"We have to accept our player-seller condition. But without competitiveness, without the UEFA titles, our buys and sells in the football market would be secondary".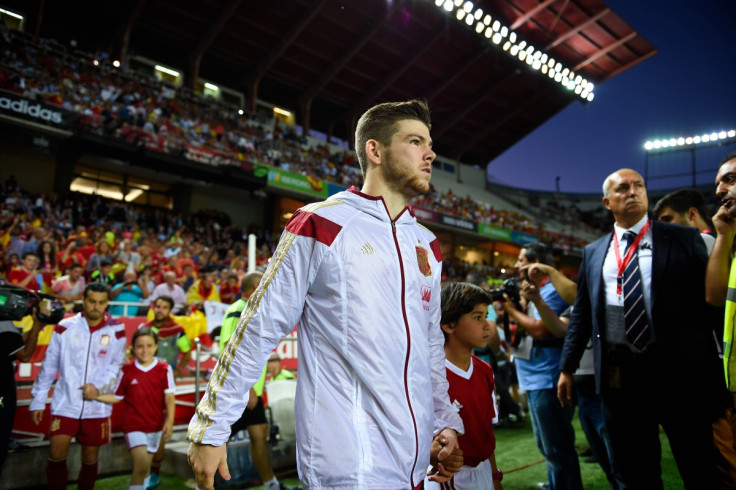 Monchi acts as if he was a trader on the stock market. "We buy players when they are almost unknown and are in the middle of their full development. After that, we sell footballers when they reach their top level. I understand that from a financial point of view, we are a model of profitability in modern football. But our speech is accepted buy our supporters because we win regularly".
The four pillars of Sevilla's success are': youth academy, low-profile signings, fearless sales and on-pitch success. Other clubs in La Liga such as Real Sociedad have earned more than €70 million due to the sales of Griezmann, Illarramendi and Bravo. They followed Sevilla's steps, but they lack the most important part of the master plan. A sporting director who knows even the most unattractive tournament like the back of his hand.
Like the Coca-Cola Company, Monchi has his own secret formula. "I consider myself a tool for the manager" he says. "Unai Emery tells me the profile of player he is looking for. Then, my scouting team starts working.
"Coordination with the manager is very important. Coordination in the scouting structure as well. I lived part of 2014 in London to improve my English and I was able to watch the daily activity of English clubs on site. Whereas the Premier League smashes us when it comes to organisation, TV rights, relationship with the supporters, etc, they can improve their scouting structures".
Sevilla's ´King Midas´ elaborates on his formula. "Our scouting team analyse players thoroughly here and there. Still, we do not have spies anywhere. We are a 16-people team based in Sevilla and we travel a lot from the south of Spain. We watch football everywhere: Belgium, France, Chile. Do you think that, nowadays, you need to have spies in South America when you can watch football anywhere on the telly?
"We do not always make the right decision, but our success selling players gives us a wide margin of error".
Under Monchi's direction, Sevilla spent a total of £11.65 million on Ivan Rakitic, Dani Alves, Baptista, Federico Fazio, Gary Medel, Seydou Keita and Geoffrey Kondogbia. They performed extremely well and after that, they were sold for a grand total of £145 million. If we add the sales of former youngsters Ramos (£22 million), Reyes (£25 million), Jesús Navas (£15 million) and Alberto Moreno (£15 million) - the earnings turn into £222 million, and a profit of £210 million. A football version of the miracle of the seven loaves and fishes.
Sevilla keep on finding bargains. They smell opportunities. Stephane Mbia arrived as a free agent due to QPR's financial problems and in this season's squad, the Colombian Carlos Bacca is shining. He is La Liga's top scorer after Ronaldo, Messi and Neymar. But, in contrast to Barcelona's Brazilian winger and Real Madrid's 'franchise player', he just cost £5 million.
Monchi does not want to "waste time" talking about his future even though his name is linked with clubs such as Tottenham Hotspur and even Bayern Munich. "Nothing is forever, whatever will be, will be, I just focus on the short term".
Sevilla's trophy cabinet would weigh even more than Messi's and Ronaldo's if Fifa awarded financial golden balls. Some clubs, such as PSG, Manchester City and QPR are being fined because they spend more than they earn. Some others, like Chelsea or Manchester United, are able to balance the books, but can't match Sevilla's capital gains. If football was a financial issue, not even Guardiola's 'jogo bonito' could beat Sevilla.
Oier Fano Dadebat is a Spanish journalist who divides his time between San Sebastian and London. You can find out more about him on Twitter @oierfano.