Narendra Modi in Ireland: Indian prime minister addresses diaspora at start of two-nation trip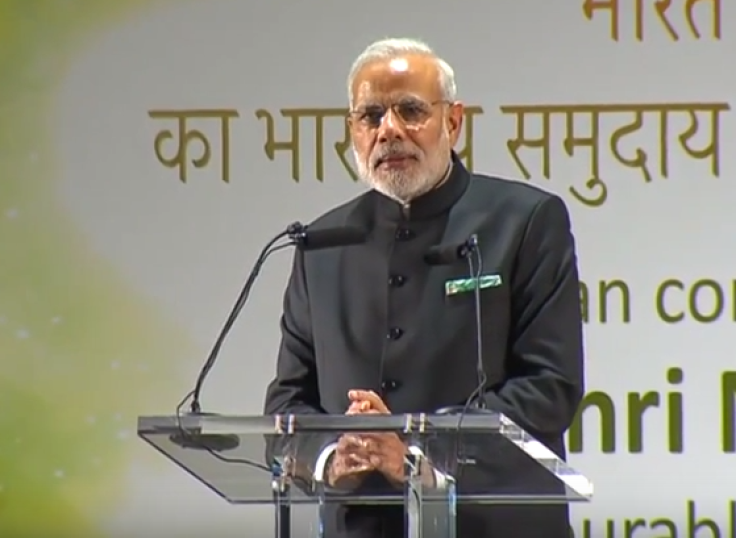 Narendra Modi, the prime minister of India, addressed his country's diaspora in Dublin as he began the first part of his two-nation trip to Ireland and the US. Modi is only the second Indian PM to have visited the country, following India's first PM, Jawaharlal Nehru, who paid a trip in 1956.
Modi began his speech by apologising for not having more time to spend with Ireland's Indian community, but told the audience he had a good meeting with Irish Taoiseach Enda Kenny and believed ties between India and Ireland need to be strengthened.
Other highlights from Modi's speech included:
Noting that India and Ireland are connected in many ways, with an independence struggle being a major common factor.

He applauded the teachers of the Irish school children who sang in Sanskrit before he took to the stage, saying that if the same had occurred in India, some would have raised concerns over secularism.

He said the world considers India to be the fastest-growingeconomy and added: "Today the world is talking about the development in India. People are thinking, 'Who knows? The 21

st

century can be India's'."

He noted that the IMF and World Bank are among those who have said India is the most powerful of the Bric nations.

He believes that if India continues on the same road for another 30 years, the country will be free of poverty.

He points out that 65% of India is under the age of 30 and that it is them who will lead India into the future: "India belongs to the youth and it is the youth that will take India to newer heights."

He ended his speech by saying he can assure Ireland's Indian community that it will not take another 60 years for an Indian Prime Minister to visit Ireland.
Modi is said to have gifted Ireland's Kenny a selection of manuscripts and papers from the National Archives of India, recognising the contribution Irish officials Thomas Oldham and Sir George Abraham Grierson made to India. Oldham conducted India's first systematic coal mapping, later initiating a map of other minerals, while Grierson conducted India's first linguistic survey. In return, Modi was given an Ireland cricket team jersey with his name printed on the back, which he proudly showed off on his social media channels.
© Copyright IBTimes 2023. All rights reserved.