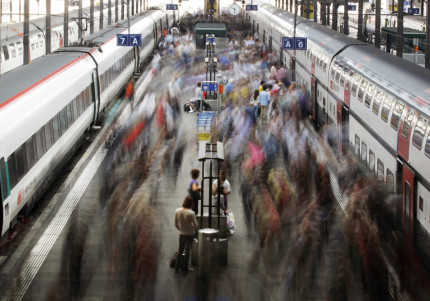 There is nothing new about rail passengers claiming they are being ripped off by inflation-busting fare hikes. It is the annual chorus of protest that has been raised for years, under governments of both colours.
And for travellers, particularly commuters who feel trapped into using the network to get to and from work, the pain is genuine and only exacerbated when they are forced into overcrowded and unreliable trains.
Yet Labour's promise to restrict such increases does beg the question of what would have to change to allow the policy to work – cutbacks in investment or shifting the burden back onto taxpayers?
Shadow transport secretary Mary Creagh insists it will be neither and that the party's planned reforms of the entire industry will allow efficiency savings to be ploughed back into investment and ticket prices.
That is a big promise and goes along with Labour's existing pledges to allow the public sector to bid for franchises alongside private firms and to create a new over-arching regulatory body to coordinate the entire system.
Passengers may need quite a bit of convincing that such policies will have the desired effect and won't head the industry back to some of the worst taxpayer-funded inefficiencies of the old British Rail.
Meanwhile, the head of the TSSA rail union, Manuel Cortes has suggested the burden should be shifted back onto general taxation.
"It is an absurd political myth that fares have to rise above inflation every year to pay for new lines.
"Passengers pay 60% towards the cost of running our railways as it is, £7 billion a year. No government asks motorists to pay 60% towards building new roads or airline passengers 60% towards building new airports," he said.
He wants Labour leader Ed Miliband to go further than offering a cap on fares and guarantee a freeze.
It is the sort of policy which might prove hugely politically attractive, but impossible to deliver in power. So Miliband currently has no intention of going down that route.
And it is clearly the case that massive investment in the system over recent years has begun to show significant improvements and neither side would want to threaten that.
But none of this alters the fact that captive commuters have a genuine grievance where a lack of competition denies them alternative forms of travel, and politicians will be hugely wary of further incurring their anger.
In light of that, it seems a pretty fair bet that in election year, 2015, Chancellor George Osborne will repeat his 2014 policy of capping fares to the level of inflation.
He is expected to make a decision before the end of the year and some MPs are already predicting such an announcement will figure in his keynote party conference speech this autumn.