Labour's Ed Miliband attempts to win over manufacturing and engineering firms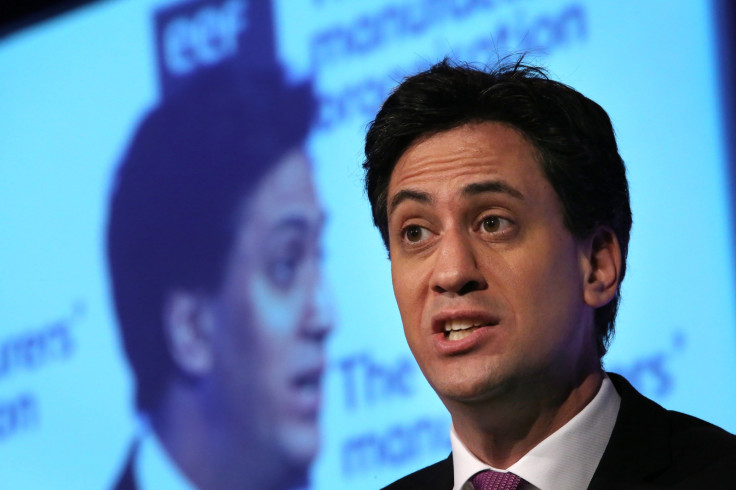 Ed Miliband has attempted to woo the British engineering and manufacturing community by outlining his party's plans for government.
The Labour leader, speaking at the 2015 EEF National Manufacturing Conference, began his speech in a light hearted manner.
He told Madonna, who hit the headlines after tripping over at the Brit Awards, that she should contact "his people" about how to deal with photo opportunities.
Miliband was making a reference to the flack he received over his awkward approach to eating a bacon sandwich.
Pleasantries and congratulations over, Miliband told delegates that a Labour government would attempt to create a "more productive country".
"Creating good jobs at decent wages. And no sectors are more central to that than manufacturing and engineering," he said.
The Labour leader also explained that skills and training for young people were two key initiatives at the heart of his party's plans.
"To build the economy we need in the 21st century we need all of our young people to be developing the skills necessary to compete in the world," Miliband argued.
But he warned that the current government has failed to address the skill shortage and argued that the UK has missed out on "wealth creation".
"We must turn this round. To do it requires more than a different policy. It needs a different way of doing things," he said.
Miliband argued that his party's plan to increase the number of apprentices and create a new Technical Degree will help overcome the "iron curtain" between academic and vocational education.
"Businesses like yours often lead the way in apprenticeships and training," he said.
"But still the number available for young people is falling right now.
"We will change that by giving businesses like yours more control over the funding.
And asking every firm that wins a major government contract to deliver apprenticeships to the next generation."
A reformed EU
Miliband also reiterated his party's position on the UK's membership of the European Union (EU).
Labour want to stay inside a reformed EU because a British exit "would not be in our national interest".
"There is no greater threat to the long-term stability and prosperity of Britain and British business than leaving the EU," Miliband said.
"That is why it is so wrong to play fast and loose with our membership of the EU."
The Labour leader did not announce any new policies from his party, but ended his speech on a pledge to the British engineering and manufacturing community.
Miliband promised to champion the industry's cause if he becomes prime minister after the general election and warned that he would not always agree with the firms.
"But you will always have a voice. We will always listen. We will always engage in dialogue. And we will always strive to work together," he said.
The comment came after Tory business minister Matthew Hancock addressed the conference.
He warned delegates that a Labour government would be "hostile" to manufacturing and engineering firms and attacked Miliband's plans.
"Labour's policies fall into two categories: what are currently doing and thing no-one in their right mind would do," Hancock said.
It is now less than 70 days to go before the general election on 7 May, with Labour and the Tories neck-and-neck (33% vs 33%) in the latest opinion poll from YouGov.
.
© Copyright IBTimes 2023. All rights reserved.