Lady Gaga has reacted to the election of Donald Trump as the 45th president of the United States of America by staging a protest outside Trump Tower in Manhattan, New York City.
The Bad Romance singer had championed Hillary Clinton throughout her presidential campaign and performed in support of the Democratic candidate at her final rally.
However as the election results were announced she joined a host of celebrities in decrying Donald Trump's victory on social media and wrote "say a prayer America."
As the world woke up to the news of Hillary Clinton's shock defeat in the polls on Tuesday 8 November, the Poker Face singer arrived at Trump Tower in New York brandishing a sign reading: "Love trumps hate".
She tweeted the image with the caption: "In a room full of hope, we will be heard. Nothing can stop us. Stand up for kindness, equality and love."
"I want to live in a #CountryOfKindness #LoveTrumpsHate," she wrote on Instagram. "He divided us so carelessly. Let's take care now of each other."
Ahead of the polls, Gaga had changed her Twitter handle to #VoteHillary as she urged her fan base to vote for the Democrat candidate.
"Young people listen up. We need to mobilize now, #VoteHillary and stop this dangerous man from continuing to divide and wreck our democracy," she wrote.
The Perfect Illusion star has been vocal in her condemnation of the billionaire property mogul, attacking the GOP nominee and his wife Melania on Twitter, writing: "you divided us with hateful language & fear. I love everyone in this country and I vote for @HillaryClinton to unite us."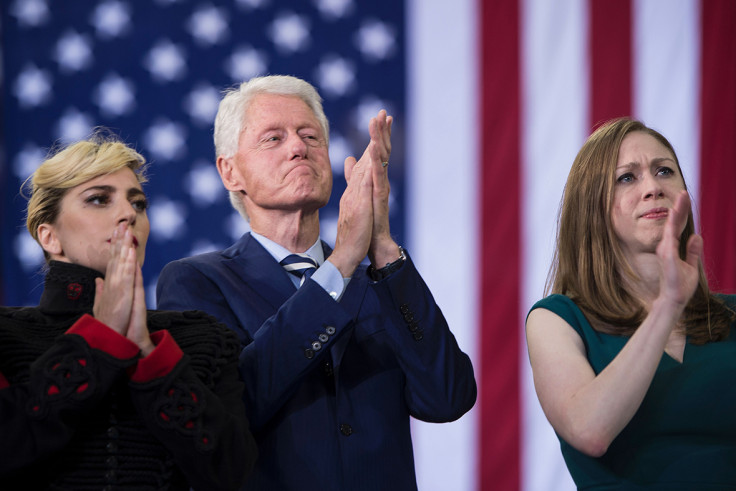 Clinton had the power of Hollywood's A-list behind her, with music icons such as Beyonce, Jay Z, Madonna and Jennifer Lopez publicly pledging their support for the Democratic candidate.
However, the showbiz world has since been left stunned at the result, with Katy Perry, Madonna, Cher and Judd Apatow among those expressing their dismay at the outcome.
This evening (Wednesday 9 November), a heartbroken Miley Cyrus posted a video in which she shared her devastation at the election result. The star was inconsolable as she hailed the 'inspiring Hillary' and pledged through tears to accept Trump as President.
Madonna also turned to social media, to impart a message of hope in the face of widespread disillusion after the polls. Posting a video of herself wearing a stars and stripes bobble while singing "If I had a hammer..." she tweeted: "Do Not Lose Hope! We will Rise Up! We will Shatter that Glass Ceiling. Do Not Give into Fear. The Revolution...".
"A New Fire Is Lit We Never Give Up. We Never Give In," she added.