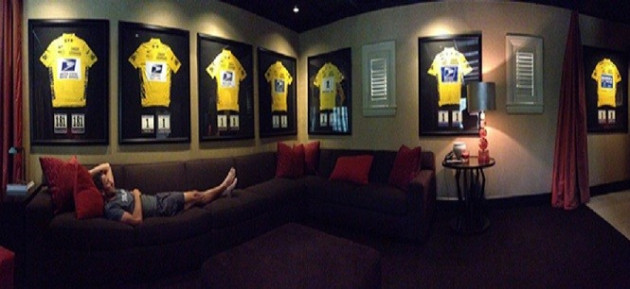 Disgraced cyclist Lance Armstrong sparked Twitter fury by posting a snap of his seven Tour de France winner jerseys on the social media website.
The American cyclist issued the provocative picture, despite being stripped of every single on of the title by sport chiefs, in one of the biggest doping scandals to hit sport in years.
He tweeted to his nearly 4m followers:
Back in Austin and just layin' around... mob.li/_r4zAz

— Lance Armstrong (@lancearmstrong) November 10, 2012
The inflammatory image was retweeted by users more than 8,000 times, not including the thousands of users who made it a 'favourite' on their page.
The U.S Anti Doping Agency produced a lengthy report detailing how the former hero was at the heart of a well-organised doping ring, in which he used his position at the summit of the sport to crush dissent among fellow cyclists and dupe fans.
It detailed how Armstrong dodged capture for years, all the time basking in the acclaim of being one of the world's most talented athletes.
Throughout the scandal and as his reputation collapsed, Armstrong stated that he never failed a drugs test during his career. But he announced recently he had ended his campaign to assert his innocence, then immediately added that he would not appeal the decision to strike his achievements from the history books.
Tweeters reacted to the provocative tweet.
"Smug and deluded," said Michael Byrnes on the micro-blogging site.
"I'm afraid there's something wrong with you. You should see someone," advised Peter Zantingh.
Wow, you really do display all the symptoms of someone sociopathic. I think you'd benefit from psychoanalysis," said Chris Roberts
But there was also support for the embattled Armstrong, who beat testicular cancer before going on to totally dominate the gruelling Tour de France race at the turn of last decade.
Nlimi19 said: "you earned all of them."
Jen Dsisto tweeted "as they say, a picture's worth a thousand words. Love this one!"