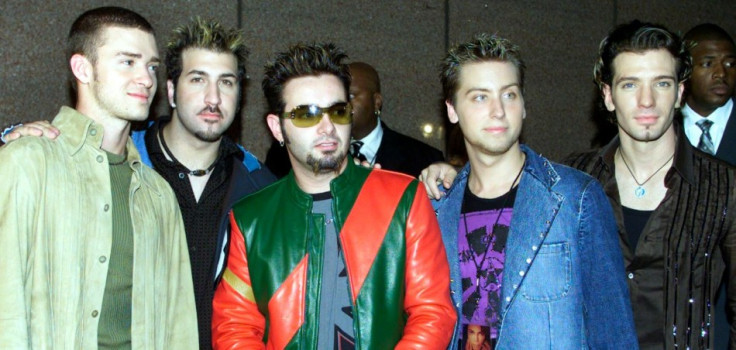 Lance Bass is not impressed with the NSYNC band members casting in the Lifetime's upcoming Britney Spears biopic. The network recently released several pictures, giving us the first look at major characters like Spears (played by Natasha Bassett) Justin Timberlake (played by Nathan Keyes).
Bass thinks that the actors look like the backstreet boys rather than NSYNC. He told Entertainment Tonight at 102.7 KIIS-FM's Jingle Ball 2016, "Somebody's been tweeting me pictures of the new *NSYNC -- it's interesting casting choices there. They actually look a little more like the Backstreet Boys, because a couple of them look like Howie D."
While Bass admitted that Spears and his former band mate Justin Timberlake are "not happy about it at all," he isn't worried about being portrayed in the film. The 37-year-old said, "I'm sure he's a better dancer than I was, so I think he'll be just fine," and admitted he will definitely watch the film.
"I love Lifetime movies," the musician revealed. "Of course, I'll watch it! C'mon! I get to see a little me on there. Why not?"
Bass also shared an update on his plans to start a family with husband of almost two years, Michael Turchin. "We're going through the surrogacy process to have our first babies and then hopefully adopt after that if the first ones didn't drive us crazy. But we're excited to expand. I think I'll be a fun dad. I grew up in the South with some really good morals, so I'll be a stricter dad than my husband. I'll be the bad cop. They'll walk all over him, but I like to put little rules in place," he said.
The movie will chronicle Spears' rise to stardom, fall from grace and return to the spotlight. It will feature tales of the men with whom she crossed paths along the way. The biopic is expected to heavily cover Spears and Timberlake romance that led to iconic red carpet appearances and culminated in a bitter breakup in 2002. Their high-profile split also allegedly inspired Timberlake's hit song Cry Me a River.