Gunman in 'pig mask' sparks panic during robbery at world-famous Bellagio hotel
A man 'wearing pig mask' targeted the Rolex watch shop inside the Bellagio hotel.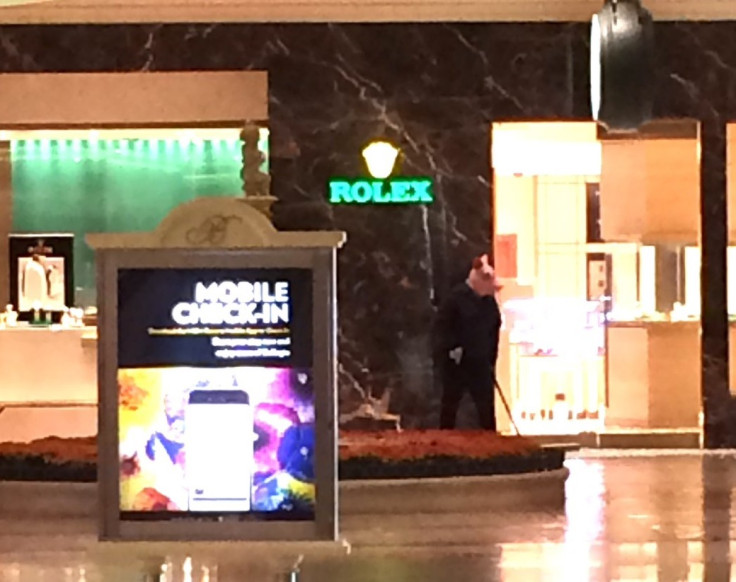 A gunman wearing a pig mask sparked panic at the world-famous Bellagio hotel and casino after attempting an armed robbery on a Rolex watch shop, it has been reported.
Police swarmed to one of the most recognisable hotels on the Las Vegas strip in the early hours of Saturday morning with reports of an active shooter inside.
Guests and tourists were pictured fleeing the hotel while others reportedly hid under tables during the incident which took place at around 1am local time (8am GMT).
Local media reported that the Las Vegas Police Department indicated that an "active shooter" was at still at large, but were found to be false.
After the initial panic, a spokesman for the force said officers were investigating a burglary inside the casino and that no one was injured in the incident.
"The preliminary investigation suggests that at least three suspects entered a retail store to commit the burglary," said the spokesman.
"It is believed that at least one suspect fired shots inside the store. At this time, one suspect has been taken into custody.
"Portions of the casino property remain closed while the investigation is conducted."
"Mass panic at Bellagio," one woman wrote on Twitter. "Everyone running, I'm currently ducked on the floor under a table."
Some witnesses said they saw a gunman near the Rolex watch shop and pictures uploaded to the social media platform showed a suspect wearing a pig mask and carrying a bag.
"I just saw outside Bellagio this man running with a gun wearing a pig mask," another woman said.
While another witness said: "Literally just witnessed an armed robber in a pig mask at a Rolex store at the Bellagio & then his arrest."
A 21 year-old California woman said she had just left the bathroom when she spotted a stocky man wearing black outside the Rolex store with a handgun and pink pig mask.
The woman, who identified as Kira, spoke to the New York Daily News, she said: "He was screaming at people, pointing his gun, making sure that anyone who was close just got away."
The Bellagio resort draws millions of visitors each year and is famed for its grand dancing fountains and lake. It also boasts restaurants, an art gallery, botanical gardens and other entertainment.
© Copyright IBTimes 2023. All rights reserved.