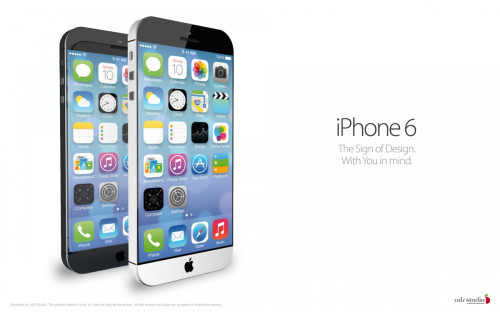 Despite the release of Apple's iPhone 5S a few months ago, there has been a lot of buzz about the Cupertino-based company's upcoming handsets.
According to new reports, Apple's iPhone 6 will come in two different sizes. This means that Apple will launch two different devices simultaneously, just like it did in October 2013 with the iPhone 5C and iPhone 5S.
iPhones with Bigger Displays
Both phones will have displays of different sizes. The smaller one will have a screen that measures 4.7 inches, while the larger one, which might compete with phones like the Samsung Galaxy Note 3, will sport a 5.7 inch display.
The report says that this information reportedly comes from Foxconn executives, who went on to add that Apple will make a "one-time exception" this year by launching two new iPhones with bigger displays.
These handsets with larger displays will help Apple compete with Samsung, whose large-screen Galaxy smartphones have been eating into Apple's market share consistently.
This new rumour adds more weight to speculation that Apple will finally start making phablets (handsets with screens bigger than 5 inches). However, despite rumors, there is no clarity on what kinds of screen sizes Apple's smartphones will ultimately have.
Several analysts have debated over what kind of screen sizes Apple's next iPhone will feature, with each of them offering sizes between 4.7 inches to 6 inches. Even though there is no solid information on what the screen size will be, it is safe to expect that they will be bigger than the 4 inch displays that phones now have.
Supply Delays with the iWatch
Apart from this, there has also been a lot of interest about Apple's upcoming iWatch, which might just have the potential to get consumers interested in smartwatches, something that similar products from Samsung, Sony and other manufacturers have not been able to do.
A new report says that the product has been hit by supply delays. According to "upstream supply chain" sources, Apple's smartwatch is "seeing less than 50 per cent yield rates due to difficulties applying surface treatments to the metal injection moulded (MIM) body."
When it comes to manufacturing products with complex and intricate designs, manufacturers use a MIM process. This allows components to feature intricate designs and shapes without compromising on rigidity.
These new issues might result in a launch delay for the Apple iWatch.
It is worth noting that Apple hired two executives from the fashion industry in 2013, Angela Ahrendts, former CEO of Burberry, and Paul Deneve, former CEO and President of Yves-Saint Laurent, in 2013.
These are indications that Apple might be trying to come out with a smartwatch that is good looking and fashionable, apart from featuring cutting-edge technology.