As Latin America prepares for the upcoming Summit of the Americas in Panama City on 9-10 April, the big elephant in the room is not going to be the long-awaited reunion of Cuba with the organisation, from which it was excluded over 50 years ago, but rather President Obama's latest act against Venezuela.
The entire region has unanimously rejected Obama's Executive Order issued 9 March 2015, declaring Venezuela "an unusual and extraordinary threat to US national security and foreign policy" and has called on the US president to rescind his decree.
In an unprecedented statement on 26 March 2015, all 33 members of the Community of Latin American and Caribbean States (CELAC), which represents the entire region, expressed opposition to US government sanctions against Venezuelan officials, referring to them as "the application of unilateral coercive measures contrary to International Law". The statement went on to manifest CELAC's "rejection of the Executive Order issued by the Government of the United States of America on March 9, 2015", and its consideration "that this Executive Order should be reversed".
Even staunch US allies such as Colombia and Mexico signed onto the CELAC statement. This may be the first time in contemporary history that all Latin American and Caribbean nations have rejected a US policy in the region, since Washington's embargo against Cuba.
Ironically, President Obama's justification for thawing relations with Cuba, announced in a simultaneous broadcast with President Raul Castro on 17 December 2014, was primarily based on what he called Washington's "failed policy" towards the Caribbean island. More than fifty years of unilateral sanctions and political hostility had only served to isolate the US internationally in its policy towards Cuba, while Cuba strengthened its own relations with countries around the world and gained international recognition for its humanitarian assistance and solidarity with other nations.
Almost without pause, Obama opened the door to Cuba, admitting Washington's failure, and then shut it on Venezuela, implementing a practically identical policy of unilateral sanctions, political adversity and allegations of threats to US national security. Before the region even had time to celebrate the loosening of the noose around Cuba's neck, it was tightened on Venezuela's. The region expressed concern over why President Obama would impose a policy proven to fail on another nation in the hemisphere, especially during a period of renewed relations.
Considering the ongoing US war on terrorism that identifies any alleged threat to US security as a viable target of its vast military power, Venezuela did not sit quiet in the face of what it perceived as a potential imminent attack. The South American nation immediately launched an international campaign to denounce Obama's Executive Order as an act of aggression against a country that poses it no real threat. President Nicolas Maduro published an Open Letter to the People of the United States in the 17 March edition of the New York Times, alerting readers to what he called dangerous steps the Obama administration was taking against his country. The letter urged US citizens to join calls for Obama to retract his Executive Order and lift the sanctions against Venezuelan officials.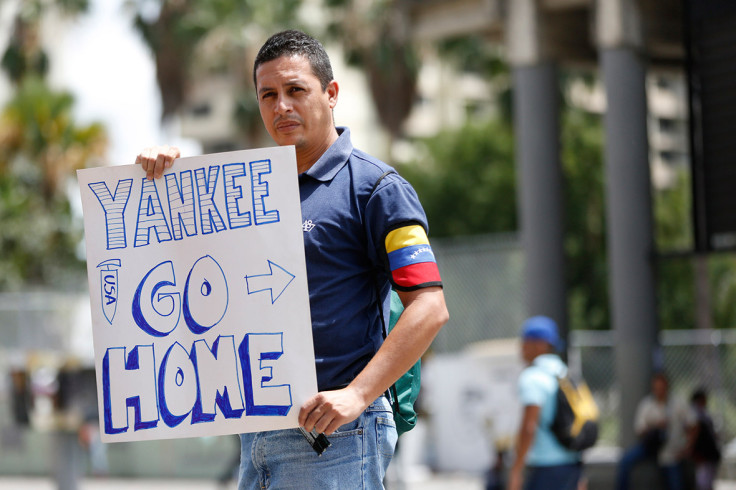 The region reacted quickly. Just 48 hours before Obama's Executive Order was issued, a delegation of Foreign Ministers from the Union of South American Nations (UNASUR), representing all 12 South American countries, had traveled to Venezuela to meet with government officials, opposition representatives and members of civil society. UNASUR had been mediating dialogue between the government and opposition since anti-government protests erupted last year and caused over 40 deaths in the country, and widespread instability. The fact that Obama's decree came right after UNASUR had reignited mediation efforts in Venezuela was perceived as a disregard of Latin America's capacity to resolve its own problems. UNASUR responded with a firm rejection of Obama's Executive Order and demanded its immediate abolition.
'Threatening peace and security'
Additionally, several countries issued individual statements rejecting Washington's sanctions against Venezuela and its designation of the South American country as an "unusual and extraordinary threat" to its national security. Argentina considered it "implausible to any moderately informed person that Venezuela or any country in South America or Latin America could possibly be considered a threat to the national security of the United States", and President Cristina Fernandez made clear that any attempt to destabilise Venezuela would be viewed as an attack on Argentina as well. Bolivian President Evo Morales expressed full support for President Maduro and his government and lashed out at Washington, saying "These undemocratic actions of President Barack Obama threaten the peace and security of all countries in Latin America and the Caribbean".
Ecuadorian President Rafael Correa tweeted that the Obama Decree must be a "bad joke", recalling how such an outrageous action, "reminds us of the darkest hours of our Latin America, when we received invasions and dictatorships imposed by imperialism...Will they understand that Latin America has changed?"
Nicaragua called the Obama Executive Order "criminal", while popular ex-Uruguayan president José Pepe Mujica said that anyone who considers Venezuela a threat must be "crazy".
Beyond Latin America, over 100 British parliamentarians signed a statement rejecting US sanctions against Venezuela and called on President Obama to rescind his Executive Order labeling the country a threat. More than six million people have signed petitions in Venezuela demanding the Executive Order be retracted. Even prominent members of the Venezuelan opposition have rejected Obama's designation of Venezuela as a threat to US national security.
In a letter to the US president, Lara state governor Henry Falcon, known for his anti-Maduro position, writes: "Let me express to you clearly that Venezuela can't be considered a threat to any other nation on the planet. We have serious internal problems but we will solve them between Venezuelans".
Internationally, the United Nations G77+China group, which represents 134 countries, also issued a firm statement opposing President Obama's Executive Order against Venezuela.
"The Group of 77+China deplores these measures and reiterates its firm commitment to the sovereignty, territorial integrity and political independence of the Bolivarian Republic of Venezuela," the statement reads. "The G77+China calls on the Government of the United States to evaluate and put into practice alternatives of dialogue with the Government of the Bolivarian Republic of Venezuela, under principles of respect for sovereignty and self-determination. As such, we urge that the Executive Order be abolished".
While Latin America celebrates the easing of tensions between the US and Cuba, the region has made clear it will not stand by and let Venezuela come under attack. Long gone are the days when Latin America was considered the "backyard" of the United States. Despite political and ideological differences, the region has united to reject these interventionist policies and in turn, has called on Washington to forge relations based on respect and dialogue.
Eva Golinger is a US-born journalist who know resides in Venezuela. She is author of The Chávez Code, and host of Detrás de la Noticia on RT.